Heating & Air Conditioning Services in Cherry Hill, New Jersey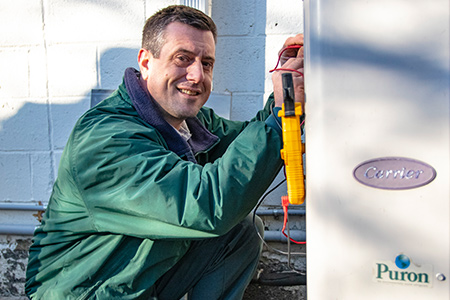 When you need heating or air conditioning services in Cherry Hill, there's only one choice to make, McAllister Energy. With over 100 years in the air conditioning and heating business, the HVAC experts at McAllister Energy skillfully repair and provide services for air conditioning, heating, and ventilation equipment.
Our services range from basic AC repairs and maintenance to extensive furnace troubleshooting and replacements. Our primary concern is you and your family's comfort in your Cherry Hill home or business. Our skilled technicians will assess your Cherry Hill property's HVAC system and install, replace, or perform the necessary repairs to get your property comfortable again.
We offer the following Cherry Hill HVAC services:
Cherry Hill Air Conditioning Repair Service

Cherry Hill Furnace Repair Service

Top Rated Cherry Hill HVAC Contractors

24 Hr Emergency Air Conditioning Repairs

24 Hr Emergency Furance Repairs

Furnace & Air Conditioning Installation Near Me In Cherry Hill

Local HVAC Installers Near Me In Cherry Hill
Learn More About Our HVAC Services Call Now: (856) 665-4545
At McAllister, we want to be the first (and last) call you need to make when hiring a heating and air conditioning contractor in Cherry Hill, New Jersey. For peace of mind knowing your Cherry Hill HVAC needs are always covered, you can count on us. We've been serving your Cherry Hill, NJ neighbors since 1876! Contact us today for all of your HVAC needs. Read more.
Cherry Hill Air Conditioning Services
Yet another exciting and fun-filled day at the Jersey shore for the entire family, but it's obvious that you want nothing more than a comfy sleep once you get home. Your problem though is that when you get to your Cherry Hill home, you realize that the temperature inside and out is scorching hot, and you feel like there is no way to find comfort in it. For you to ensure the comfort inside your home, we offer you the ideal cooling and air conditioner services in Cherry Hill, New Jersey:
When it comes to anything pertaining to cooling systems, we at McAllister Energy serve every residential needs in Cherry Hill, so select us if you require repair, installation, and maintenance solutions. You may choose to correspond with us on the web or you can simply dial (856) 665-4545 to set up service.
Cherry Hill Heating Services
McAllister Energy has been setting up and repairing boilers and furnaces throughout South Jersey, including Cherry Hill, since 1876, which is why you can depend on our heating technicians will get the job done promptly and effectively. Effective heating for your Cherry Hill home implies having to choose from a wide range of selections. McAllister Energy offers the following services:
Keep your family comfortable through the harsh cold Jersey winters with a dependable furnace or boiler equipment from McAllister Energy. Be sure to give us a ring for heating system installation, maintenance, replacement, and repair.
Air Conditioning Maintenance, Service, and Repairs In Cherry Hill, New Jersey
McAllister Energy specializes in preventative maintenance services for all types of air conditioners in residential and commercial properties. Having your AC system maintained on a regular basis is crucial to keep it running efficiently and smoothly. Additionally, annual tune-ups help to reduce unwanted cooling repair costs. Contact us today to get your home's central AC system tuned up and maintained.
Cherry Hill Heat Pump Services
It's often said that two is better than one, but that's not always the case. For example, setting up a heat pump at home gives you the possibility to take pleasure in efficient heating and cooling all year. No matter what services you need, including but not limited to making a switch to another HVAC system or replacing a broken hardware, McAllister Energy is here to assist you with the following services:
McAllister Energy started in 1876, and since then, we've come to be the leading heating and cooling contractor for residents in the Cherry Hill area. Get in touch with us today at (856) 665-4545 to arrange your heat pump installation, maintenance, or repair.
Commercial HVAC Services Cherry Hill
Remember that commercial properties need dependable heating and cooling, too. The absence of a reputable HVAC system will certainly result in minimized performance and sales, owing to the displeasure of having to go through the heat or extreme cold. In the commercial setting, heating and cooling systems can rapidly turn inefficient because of extreme operational stress. Fortunately, we offer you a number of products and services that will help you improve your commercial space into a convenient living area for workers and clients alike. What we do is we will send you an experienced and trained specialist to help in the development of a comprehensive installation, maintenance, and repair created for your Cherry Hill business or commercial space.
You don't really need to risk the comfort level of your small business or office premises, so team up with McAllister Energy right now. Contact us at (856) 665-4545 to schedule a commercial HVAC services consultation today.
Cherry Hill Indoor Air Quality
Many people are startled to discover that indoor air can be many times more polluted than outdoor air. There's a valid basis for this observation since most homes and buildings these days are intended to be sealed off from the outdoors to ensure that heated and cooled air will not escape. Although this saves energy, it can produce indoor air that's full with invisible contaminants that negatively influence health and well-being. Help keep the air quality in your home as clean as possible with indoor air quality solutions in South Jersey.
When you need indoor air quality purification services in Cherry Hill, there's only one name you need to know, McAllister Energy.
Cherry Hill Points of Interest
The township of Cherry Hill in Camden County is home to a little over 71,000 residents, making it the 15th most populous municipality in the state of New Jersey and the second largest in the county. The only more populous municipality in Camden County is the city of Camden, which happens to be the county seat. Cherry Hill is also described as an edge city of Philadelphia and is conveniently situated along the Delaware Valley coastal plain. The township is a renowned corporate and employment hub in South Jersey, owing to the fact that it is the home of TD Bank, N.A., referred to as the seventh largest U.S. depository bank in the country. There's also a coffee roasting plant of Melitta USA in Cherry Hill.
Cherry Hill is located at 39.90461 Latitude and -74.997 Longitude, within Camden County, New Jersey. It has a population of 71,352 with a $92,185 median income and with 26,067 households.
Local areas of interest
McAllister Energy
7116 Park Ave
Pennsauken, NJ 08109
(856) 665-4545
Choose McAllister for HVAC Services in Cherry Hill, NJ
At McAllister Energy, we care about our customers and we're passionate about our work. We've been in the indoor comfort business since 1876. That's almost 150 years of HVAC experience. And yet, because the HVAC industry is constantly evolving, we continue to learn new things every day. When we go to work for you, we apply everything we know to solve the problem quickly, efficiently, and effectively. We've built our business from the ground up, and our commitment to your peace of mind grows stronger every day.
Whatever your heating and cooling needs in Cherry Hill, McAllister Energy can help. Contact our expert HVAC technicians for assistance.
Local Reviews
for Cherry Hill, NJ
McAllister Energy
Rated
5.0
out of 5 stars based on
38
customer reviews
Powered by Nearby Now
---
Great service
Massiel

-

Cherry Hill

,

NJ



Review of McAllister Energy
---
Great Service
Susan

-

Cherry Hill

,

NJ



Review of McAllister Energy
---
Great service
Carol

-

Cherry Hill

,

NJ



Review of McAllister Energy
Very nice young man. Polite. Cleaned up. Told me what he was doing and the results.
---
Great Service
Paul

-

Cherry Hill

,

NJ



Review of McAllister Energy
---
Everything was great!
Richard

-

Cherry Hill

,

NJ



Review of McAllister Energy
With all this cold weather we are very glad to have such good service- to have everything fixed so well and so promptly.
---
always great service!
Tom Corson

-

Cherry Hill

,

NJ



Review of McAllister Energy
Recommend McAllister to anyone wanting a heat & cooling system.
---
Great Service
Meehan

-

Cherry Hill

,

NJ



Review of McAllister Energy
---
Great Service!
Ryan

-

Cherry Hill

,

NJ



Review of McAllister Energy
Mike was prompt, professional, and courteous. Fantastic overall experience that makes be happy to be a customer of McAllister Energy.
---
Review
Dr Petroff

-

Cherry Hill

,

NJ



Review of McAllister Energy
Great service and staff member
---
Professional timely service
Steven

-

Cherry Hill

,

NJ



Review of McAllister Energy
The folks at McAllister are very kind and helpful. Ed who did the work was excellent in all ways. He kept me informed at each step, executed the repair efficiently and performed additional tests to ensure all was well. Super job!
---
Great Service
Foti

-

Cherry Hill

,

NJ



Review of McAllister Energy
Problem found and fixed quickly. Called because air was not working. On a busy day, service tech arrived within a few hours. Very happy with service.
---
Great service!
Naomi

-

Cherry Hill

,

NJ



Review of McAllister Energy
Dave has serviced my HVAC system before. He is always professional and courteous and is knowledgeable. He explains everything that he finds and needs to do.
---
Great and Quick Service From Ed L.
Kristi

-

Cherry Hill

,

NJ



Review of McAllister Energy
I called my oil company bc our heater wasn't staying on. They were quick to act and when the tech got here , Ed was able to see what the problem was , give me a price , and fix the problem. He was very professional and did an amazing job! Thanks Again Ed! 10 Stars!! Take Care!
---
Toasty and happy
Sleppy

-

Cherry Hill

,

NJ



Review of McAllister Energy
McAllister did a great job and got my heater fixed before the coming cold had a chance to create disaster. Thank you!
---
Great service
Sean Conway

-

Cherry Hill

,

NJ



Review of McAllister Energy
Ed went above and beyond to ensure my Mother's heat pump unit was operational. He came back the next day to make sure things were working as they should be.
---
Dave L.
Annual precision tune up on Carrier Infinity series gas furnace and Carrier Infinity series Air conditioning system.
Near
Franklin Ave,

Cherry Hill

,

NJ

08002
Ed L.
Cleaning six Carrier air conditioning systems.
Near
Ann Dr,

Cherry Hill

,

NJ

08003
Dave L.
Annual precision tune up and inspections on natural gas Goodman furnace, air conditioning system, and a Bradford White gas HWH.
Near
Chanticleer,

Cherry Hill

,

NJ

08003
David C.
Oil furnace cleaning
Near
Kaighns Ave,

Cherry Hill

,

NJ

08002
Dave L.
Annual precision tune up on Energy Kinetics Accent model oil fired boiler.
Near
Queen Ann Rd,

Cherry Hill

,

NJ

08003
Juarbe J.
No heat
Near
Arthur Dr,

Cherry Hill

,

NJ

08003
Ed L.
Cleaning a gas furnace
Near
Oak Ave,

Cherry Hill

,

NJ

08002
Dave L.
Check gas furnace operations, per customer request, due to high energy bills this winter.
Near
Country Club Dr,

Cherry Hill

,

NJ

08003
Thomas G.
Bradford White gas water heater
Near
Uxbridge Dr,

Cherry Hill

,

NJ

08034
Juarbe J.
No heat gas furnace
Near
Rte 70 W,

Cherry Hill

,

NJ

08003