Carrier Cooling and Heating Systems
At McAllister Energy, we only install the best quality heating and air conditioning equipment and that's why we install Carrier systems. Whether you need a full system upgrade to a modern state-of-the-art system or just want your current system to be optimized to its full potential, there's only one call you need to make: McAllister Energy, your local NJ Carrier dealer.
With our service technicians' comprehensive knowledge of these products and our 100% satisfaction guarantee, you know that any service provided by McAllister Energy is the best you can get.
Carrier - The Most Trusted Brand in HVAC Systems
Carrier provides some of the best HVAC systems on the market and here at McAllister Energy, we're proud to bring these great products to you!
Air Conditioning
No other brand of air conditioner offers durability, maximum comfort, and versatility in your Pennsauken home than Carrier. As an authorized partner, we at McAllister Energy recommends the purchase and installation of a Carrier air conditioner that provides reliability like no other. The AC systems from Carrier are the best in their class, offering cooling power that easily beats the scorching South Jersey temperature.
Heating
It is an understatement to say that South Jersey winters are chilly. To combat the cold, homeowners like you want to invest in a highly capable heating system; something that is powerful enough to provide comfort and protection all throughout the winter season. We offer you a wide range of options, including heating equipment powered by gas, electric, or oil. Carrier furnace systems offer heating comfort like no other.
Heat Pumps
One of the most efficient ways to heat your home is by using geothermal heat pumps or ground-source heat pumps. The energy comes from your own backyard, extracted in the form of thermal energy. The pump makes use of the constant temperature found a few feet below the ground. The thermal energy is used as an effective exchange medium. Just like their other products, Carrier heat pumps are the most reliable on the market.
Carrier Is Trusted In More Homes Than Any Other Brand
Air Quality
At McAllister Energy, we partner with Carrier to provide you with top-of-the-line indoor air-quality solutions such as air purifiers, UV lamps, humidifiers, and ventilators. When you work with us we can help you eliminate pollutants and allergens from the air inside your home. 
Energy Efficiency
We're proud here at McAllister Energy to provide you with the most efficient home energy systems on the market thanks to Carrier. These systems will help you lower your monthly energy costs and will truly pay for themselves. 
Environment
Not only are Carrier systems energy efficient, but they're also some of the best systems when it comes to lowering our impact on the planet. Carrier is constantly innovating to decrease our carbon footprint and help make the world a better place.
Indoor Air Quality
Every South Jersey homeowner including you must acknowledge the reality that the air conditioner alone cannot create an ideal air condition inside. If you wish to improve air quality, you must invest in Carrier Humidifiers. Humidifiers work by controlling air moisture, while ventilators help in bringing in the fresh air inside. Meanwhile, electronic and traditional air filters work by cleaning the air right before being circulated. Other modern equipment like ultraviolet lamps are designed for eliminating germs and bacteria.
So, if you intend to breathe cleaner and fresher air inside, Carrier offers the following for your South Jersey home:
Air cleaners
Humidifiers
Dehumidifiers
Ventilators
UV lamps
CO detector
The team of experts at McAllister Energy inherits a tradition of serving the area around South Jersey for more than a century now. The truth is we have been in this business since 1876. The tradition of addressing all types of heating and cooling needs is reliant upon the dedication to premium service and the delivery of high-quality products. The objective is to hand out customer-oriented solutions.
Carrier- Serving Your HVAC Needs
Willis Carrier, the founder of the Carrier brand of air conditioning, is credited with the invention of the first modern AC system in 1902. For over a century, Carrier mastered the design for the perfect air conditioner for the residents in New Jersey, including you.
At McAllister Energy, we feel and understand your predicament. We acknowledge how important the role of a furnace is. For the winter months, the system is essential in radiating warmth, while it plays a critical role in moving conditioned air from your cooling system in the summer. Since we want nothing but utmost comfort for your family all year round, we only recommend the best lineup of furnaces - Carrier furnaces.
Thermostats & Controls
New technology from Carrier makes it so easy for you to take total control over the temperature throughout your home. Smart temperature management, remote-access, and efficient systems put Carrier systems on the cutting edge of HVAC technology.
Work with McAllister Energy and Carrier today to get comprehensive home heating and cooling solutions that will bring you higher air quality, more control, and much higher satisfaction with your home energy systems.
Carrier's thermostat options include:
Infinity Series®
Performance™ Series
CÔR™ WIFI Thermostats
Comfort™ Series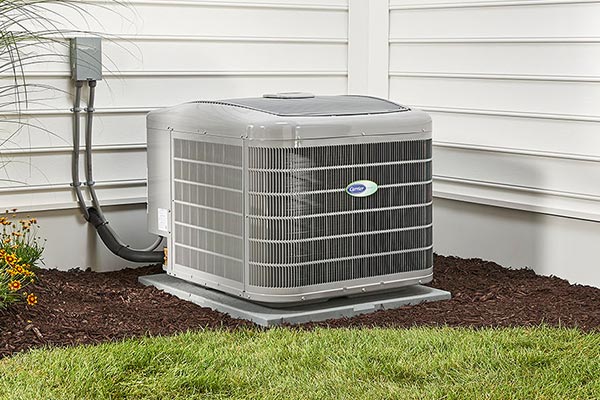 Carrier Air Conditioning
As an authorized dealer of Carrier Systems, our goal is to bring our customers the best solutions in cooling technology and Carrier is always pushing the boundaries of what's possible. In 1902, the founder of Carrier, William Carrier, invented the first modern ac-system and since then the company has been consistently innovating on this system. 
McAllister Energy will always find a solution that's perfect for your home cooling needs. Our energy experts can asses your home and provide you with expert recommendations based on years of experience in the industry.
Heating by Carrier
In the freezing Southern New Jersey winters, you need a home heating system that you can trust to keep you and your family warm. Carrier systems are known for their energy efficiency so you can feel free to make your home as comfortable as possible without worrying about breaking the bank. 
Leave the home comfort side of things to us. You can just sit back and relax while our experienced team finds you a home heating solution that's perfect for your needs and your budget. Call McAllister Energy today for more information on how we can help you save money.
Evaporator Coils and Fans
For most South Jersey residents, there really is no need to think about the fan coil. After all, it does not cost you any trouble, right? But you should know that it needs your attention, too. For instance, the variable-speed fan coils from Carrier are specifically designed to save on the costs of both heating and cooling. If you let McAllister Energy help you figure out what's best for your system, we will send a team of experts to inspect your system, learn your efficiency requirements, and talk to you about how much you are willing to spend.
The advantage of Carrier fan coils is that they work by heating and circulating air in the forced air heating system. Evaporator coils, on the other hand, work with the forced air heating and cooling system to condition the air intended for distribution all throughout the interior space.
As an average homeowner, we understand that you do not really know that much about what to look for in a fan or evaporator coil. Well, you do not have to since it is our job to guide you. We have an expert HVAC team that is more than willing to help you pick the ideal coil for your existing system.
Heat Pump
Heat pumps are one of the most versatile systems on the market today. Doing everything from cooling, dehumidifying, cooling, and more! In the winter these systems resemble the functionality of a furnace or boiler, but in the summer, it's reversed and operates like an air conditioner.
Heat pumps from Carrier are extremely efficient and allow homeowners in NJ to use these systems for year-round comfort at a price that's easy to afford.
Packaged Products
Carrier also offers residents of South Jersey packaged products intended for homeowners who want the most value for their money. Also, packaged HVAC systems are specifically designed for saving space. The systems provide heating and cooling, as well as maximum comfort for your Pennsauken residence.
McAllister Energy has been providing service, including installation, repair, and maintenance for Carrier systems; so rest assured, you have the support you need to maintain comfort in your home for the entire year.
You have more than a couple of options readily made available to address your home's comfort needs. For instance, you can replace your old AC system or heat pump or substantially reduce energy expenses by using a Hybrid Heat® solution. We have packaged products that afford creative solutions for specific residential needs. So, if you wish to install Carrier packaged products for your South Jersey home, McAllister Energy is here to help service the following:
Packaged air conditioners
Thermostats
Gas furnace and AC combinations
Packaged heat pumps
Hybrid Heat®dual fuel packaged products
McAllister Energy offers the hands down best service in all of South Jersey. Call us today for a free in home consultation to improve your home comfort and energy savings today!
Need Fast Service, Now?
Call us now for emergency fuel delivery or HVAC service.