Heating & Air Conditioning Services in West Berlin, New Jersey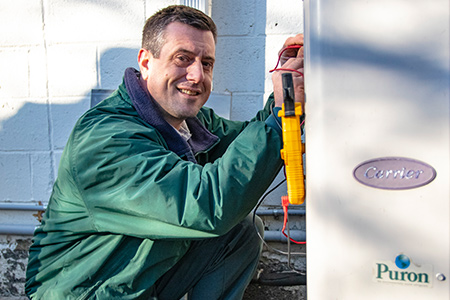 When you need heating or air conditioning services in West Berlin, there's only one choice to make, McAllister Energy. With over 100 years in the air conditioning and heating business, the HVAC experts at McAllister Energy skillfully repair and provide services for air conditioning, heating, and ventilation equipment.
Our services range from basic AC repairs and maintenance to extensive furnace troubleshooting and replacements. Our primary concern is you and your family's comfort in your West Berlin home or business. Our skilled technicians will assess your West Berlin property's HVAC system and install, replace, or perform the necessary repairs to get your property comfortable again.
We offer the following West Berlin HVAC services:
West Berlin Air Conditioning Repair Service

West Berlin Furnace Repair Service

Top Rated West Berlin HVAC Contractors

24 Hr Emergency Air Conditioning Repairs

24 Hr Emergency Furance Repairs

Furnace & Air Conditioning Installation Near Me In West Berlin

Local HVAC Installers Near Me In West Berlin
Learn More About Our HVAC Services Call Now: (856) 665-4545
At McAllister, we want to be the first (and last) call you need to make when hiring a heating and air conditioning contractor in West Berlin, New Jersey. For peace of mind knowing your West Berlin HVAC needs are always covered, you can count on us. We've been serving your West Berlin, NJ neighbors since 1876! Contact us today for all of your HVAC needs. Read more.
West Berlin Air Conditioning Services
Yet another amazing and fun-filled day at the Jersey shore for the entire family, but it's no secret that you would like nothing more than a comfortable rest once you get home. The issue though is that the temperature level in your West Berlin home is almost unendurable, something that makes it practically inconceivable to find comfort and relaxation. But don't worry because we are here to give you the best cooling options through our air conditioner services for the residents of West Berlin, New Jersey:
Whether you require a new system set up in West Berlin, or an old system maintained or repaired, go with McAllister Energy. Contact us online or call us at (856) 665-4545 to set up service.
West Berlin Heating Services
The professionals at McAllister Energy have been servicing residences in the South Jersey region, including West Berlin since 1876, and we are pleased to profess that we are the best in the industry when it comes to the installation, repair, and upkeep of boilers and furnaces. Effective heating for your West Berlin home implies having to pick from a wide array of options. McAllister Energy delivers the following services:
Always keep your family at ease through the bitter cold Jersey winters with a dependable furnace or boiler system from McAllister Energy. Call us to schedule heating system installation, replacement, or repair!
West Berlin Heat Pump Services
It may be true that two is better than one, but there are particular exemptions to that. For example, the choice to setup a heat pump makes it possible for you to have an efficient heating and cooling system for the entire year. Whether you're looking to make the switch from another type of HVAC system to a heat pump, or you want to replace or repair existing equipment, McAllister Energy's technicians can provide high-quality services, consisting of:
McAllister Energy started in 1876, and ever since, we've come to be the leading heating and cooling company for homeowners in the West Berlin area. Call us at (856) 665-4545 to schedule a service appointment for heat pump installation, repair, and maintenance.
Commercial HVAC Services West Berlin
Efficient heating and cooling are just as essential for commercial properties. Without an efficient HVAC system, your workers may be less productive or sales could decrease due to your customers' discomfort. You probably already know by now that heating and cooling systems in commercial settings are prone to a lot of stress, triggering them to end up being inefficient. We offer a wide variety of products and services designed primarily for the local commercial market. One of our qualified comfort care experts can help create a comprehensive installation, repair, and maintenance program customized precisely for your West Berlin business.
You don't really need to risk the comfort level of your small business or office premises, so team up with McAllister Energy today. Speak with us today at (856) 665-4545 to set up commercial HVAC services!
West Berlin Indoor Air Quality
Lots of people are startled to learn that indoor air can be often times more contaminated than outdoor air. The reason is that most structures in the modern day, including residential properties, are designed to be sealed off from the outside, the purpose of which is to keep warmed as well as cooled air from leaking. Even though this conserves energy, it can develop indoor air that's full with invisible contaminants that detrimentally affect health and well-being. It is your obligation as a homeowner to make certain that the air your inhale inside is clean, and the best way to accomplish that is by tapping the services of professional indoor air quality solutions in South Jersey.
When you need indoor air quality purification services in West Berlin, there's only one name you need to know, McAllister Energy.
West Berlin Points of Interest
The unincorporated community of West Berlin is located inside Berlin Township, which in turn is part of Camden County in the state of New Jersey. As you may have already guessed it, the name of the community as well as that of the township are derived from the capital city of Germany, Berlin. The U.S. version of West Berlin has its own ZIP code of 08091 courtesy of the United States Postal Service. It is an interesting fact knowing that the community only has a population of a little over 5,000, making it one of the smallest in the county in terms of population.
West Berlin is located at 39.8077618 Latitude and -74.9312075 Longitude, within Camden County, New Jersey. It has a population of 5,357 with a $59,122 median income and with 2,209 households.
Local areas of interest
McAllister Energy
7116 Park Ave
Pennsauken, NJ 08109
(856) 665-4545
Choose McAllister for HVAC Services in West Berlin, NJ
At McAllister Energy, we care about our customers and we're passionate about our work. We've been in the indoor comfort business since 1876. That's almost 150 years of HVAC experience. And yet, because the HVAC industry is constantly evolving, we continue to learn new things every day. When we go to work for you, we apply everything we know to solve the problem quickly, efficiently, and effectively. We've built our business from the ground up, and our commitment to your peace of mind grows stronger every day.
Whatever your heating and cooling needs in West Berlin, McAllister Energy can help. Contact our expert HVAC technicians for assistance.
Local Reviews
for West Berlin, NJ
---
David C.
Carrier AC/HP check up
Near

Briarwood Rd,

West Berlin

,

NJ

08091
David C.
Goodman 90+ Gas Furnace pre-season check ups
Near

Leonardo Ln,

West Berlin

,

NJ

08091
Andrew P.
Performing Air Conditioner Tune-up
Near

Leonardo Ln,

West Berlin

,

NJ

08091
Andrew P.
Performing Air Conditioner Tune-up
Near

Leonardo Ln,

West Berlin

,

NJ

08091
Andrew P.
Performing Air Conditioner Tune-up
Near

Leonardo Ln,

West Berlin

,

NJ

08091
Andrew P.
Performing Air Conditioner Tune-up
Near

Leonardo Ln,

West Berlin

,

NJ

08091