Heating & Air Conditioning Services in Pilesgrove, New Jersey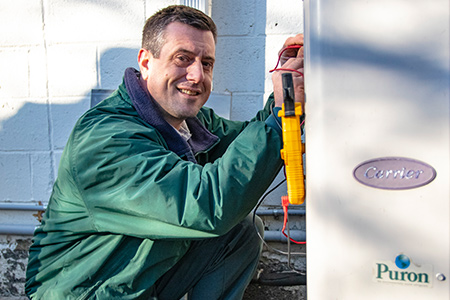 When you need heating or air conditioning services in Pilesgrove, there's only one choice to make, McAllister Energy. With over 100 years in the air conditioning and heating business, the HVAC experts at McAllister Energy skillfully repair and provide services for air conditioning, heating, and ventilation equipment.
Our services range from basic AC repairs and maintenance to extensive furnace troubleshooting and replacements. Our primary concern is you and your family's comfort in your Pilesgrove home or business. Our skilled technicians will assess your Pilesgrove property's HVAC system and install, replace, or perform the necessary repairs to get your property comfortable again.
We offer the following Pilesgrove HVAC services:
Pilesgrove Air Conditioning Repair Service

Pilesgrove Furnace Repair Service

Top Rated Pilesgrove HVAC Contractors

24 Hr Emergency Air Conditioning Repairs

24 Hr Emergency Furance Repairs

Furnace & Air Conditioning Installation Near Me In Pilesgrove

Local HVAC Installers Near Me In Pilesgrove
Learn More About Our HVAC Services Call Now: (856) 665-4545
At McAllister, we want to be the first (and last) call you need to make when hiring a heating and air conditioning contractor in Pilesgrove, New Jersey. For peace of mind knowing your Pilesgrove HVAC needs are always covered, you can count on us. We've been serving your Pilesgrove, NJ neighbors since 1876! Contact us today for all of your HVAC needs. Read more.
Pilesgrove Air Conditioning Services
You and the whole family spent the whole day having fun at the Jersey shore and spending the night at the boardwalk; but at the day's end, you desire nothing but a good night sleep and rest in your home. But if the temp inside your Pilesgrove home is as hot as the weather condition outside, it could be too uncomfortable to rest. If you want to keep you and your family at ease, even when the temperatures are reaching record highs, we offer the following air conditioner services in Pilesgrove, New Jersey:
When it comes to anything related to cooling systems, we at McAllister Energy serve every residential needs in Pilesgrove, so select us if you require repair, installation, and maintenance services. You may choose to correspond with us online or you can just dial (856) 665-4545 to schedule service.
Pilesgrove Heating Services
McAllister Energy has been setting up and repairing boilers and furnaces all over South Jersey, including Pilesgrove, since 1876, which is why you can trust our heating technicians will get the job done promptly and effectively. You deserve to heat your Pilesgrove home with utmost comfort, which is why we offer a handful of choices for you to choose. McAllister Energy delivers the following services:
If you wish to ensure the coziness and safety of your family in the middle of the winter months, you must work with McAllister Energy for the servicing of your boiler or furnace. Call us to schedule heating system installation, replacement, or repair!
Pilesgrove Heat Pump Services
It's often said that two is better than one, but that's not always the case. By installing a heat pump, your home will experience efficient heating and cooling year round. No matter what services you need, including but not limited to making a switch to a different HVAC system or replacing a broken equipment, McAllister Energy is right here to assist you with the following services:
McAllister Energy began in 1876, and ever since, we've turned into the best heating and cooling service provider for homeowners in the Pilesgrove area. Call us at (856) 665-4545 to schedule a service consultation for heat pump installation, repair, and maintenance.
Commercial HVAC Services Pilesgrove
Effective heating and cooling are equally as essential for commercial properties. You can not afford to have an ineffective HVAC system because the displeasure it leads to might induce low productivity and sales. Commercial heating and cooling systems are regularly contingent on intense working stress and often reduce efficiency with time. We provide a wide variety of products and services developed specifically for the local commercial market. One of our qualified comfort care specialists can help create a comprehensive installation, repair, and maintenance solution customized precisely for your Pilesgrove business.
There is no reason for you to put your company at a compromise by giving up comfort; all you must do is contact McAllister Energy. Speak with us today at (856) 665-4545 to schedule commercial HVAC services!
Pilesgrove Indoor Air Quality
Lots of people do not understand that indoor air is in fact more polluted when compared to the air outside. The reason is that most facilities in the modern day, including residential properties, are designed to be sealed off from the outside, the purpose of which is to keep heated as well as cooled air from leaking. Yes, it conserves energy, but the issue is that indoor air that does not disperse and escape will inevitably become congested with unnoticeable contaminants, which in turn will affect everyone's health inside. Keep the air quality in your home as clean as possible with indoor air quality services in South Jersey.
When you need indoor air quality purification services in Pilesgrove, there's only one name you need to know, McAllister Energy.
Pilesgrove Points of Interest
Initially spelled as Pile's Grove, the Township of Pilesgrove is located within Salem County, New Jersey. It was one of the 104 townships established in New Jersey on February 21, 1798. Pilesgrove was named after Thomas Pyle. Pilesgrove is an agricultural community. A local point of interest is the Pilesgrove Solar Farm, which has 71,000 solar panels covering 100 acres and making it one of the largest in the state. There are also two wineries within its borders, namely, Auburn Road Vineyards and Chestnut Run Farm. There is also a Cowtown Rodeo in town wherein cowboys and cowgirls compete in Old West rodeo. Pilesgrove is also home to the Salem County Fair Grounds which holds festivals and other events throughout the year. Visitors can also enjoy camping at the Four Seasons Family Campground which also has a beach, a game room, a playground, a fishing pond, a recreation hall, and basketball and volleyball courts. Notable people from this township include Jim Cook Jr. and Nathan T. Stratton.
Pilesgrove is located at 39.6531394 Latitude and -75.3146439 Longitude, within Salem County, New Jersey. It has a population of 4,016 with a $85,889 median income and with 1,690 households.
Local areas of interest
McAllister Energy
7116 Park Ave
Pennsauken, NJ 08109
(856) 665-4545
Choose McAllister for HVAC Services in Pilesgrove, NJ
At McAllister Energy, we care about our customers and we're passionate about our work. We've been in the indoor comfort business since 1876. That's almost 150 years of HVAC experience. And yet, because the HVAC industry is constantly evolving, we continue to learn new things every day. When we go to work for you, we apply everything we know to solve the problem quickly, efficiently, and effectively. We've built our business from the ground up, and our commitment to your peace of mind grows stronger every day.
Whatever your heating and cooling needs in Pilesgrove, McAllister Energy can help. Contact our expert HVAC technicians for assistance.
Local Reviews
for Pilesgrove, NJ
McAllister Energy
Rated
4.5
out of 5 stars based on
2
customer reviews
---
very professional
Trotter

-

Pilesgrove

,

NJ

08098



Review of
McAllister Energy
Great service, on site in a reasonable time, service tech knew his job, informed us of what we needed and and explained and set up our new thermosat.
---
Nice serviceman
Charles

-

Pilesgrove

,

NJ

08098



Review of
McAllister Energy
---
David C.
Oil furnace cleaning
Near

NJ-45,

Pilesgrove

,

NJ

08098
Thomas G.
Honeywell thermostat
Near

Harrisonville Lake Rd,

Pilesgrove

,

NJ

08098
David C.
Spirit 80% oil furnace tune up
Near

Laurel Ln,

Pilesgrove

,

NJ

08098
Dave L.
Natural gas condensing furnace tune ups
Near

Auburn Rd,

Pilesgrove

,

NJ

08098
Zach C.
Annual air conditioner cleaning
Near

Caroline Ct,

Pilesgrove

,

NJ

08098