Heating & Air Conditioning Services in Paulsboro, New Jersey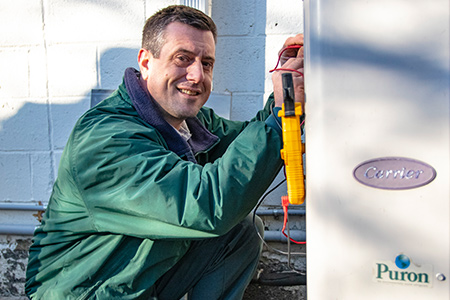 When you need heating or air conditioning services in Paulsboro, there's only one choice to make, McAllister Energy. With over 100 years in the air conditioning and heating business, the HVAC experts at McAllister Energy skillfully repair and provide services for air conditioning, heating, and ventilation equipment.
Our services range from basic AC repairs and maintenance to extensive furnace troubleshooting and replacements. Our primary concern is you and your family's comfort in your Paulsboro home or business. Our skilled technicians will assess your Paulsboro property's HVAC system and install, replace, or perform the necessary repairs to get your property comfortable again.
We offer the following Paulsboro HVAC services:
Paulsboro Air Conditioning Repair Service

Paulsboro Furnace Repair Service

Top Rated Paulsboro HVAC Contractors

24 Hr Emergency Air Conditioning Repairs

24 Hr Emergency Furance Repairs

Furnace & Air Conditioning Installation Near Me In Paulsboro

Local HVAC Installers Near Me In Paulsboro
Learn More About Our HVAC Services Call Now: (856) 665-4545
At McAllister, we want to be the first (and last) call you need to make when hiring a heating and air conditioning contractor in Paulsboro, New Jersey. For peace of mind knowing your Paulsboro HVAC needs are always covered, you can count on us. We've been serving your Paulsboro, NJ neighbors since 1876! Contact us today for all of your HVAC needs. Read more.
Paulsboro Air Conditioning Services
Soon after a hectic day at the Jersey shore and fun-filled night at the boardwalk, your family eagerly anticipates returning home to a cool home where they can rest after the day's activities. But if the temperature inside your Paulsboro home is as hot as the weather condition outside, it may be too unpleasant to relax. In order to keep you and your family at ease, even when the temperatures are reaching record highs, we deliver the following air conditioner services in Paulsboro, New Jersey:
It does not matter what variety of AC and cooling service you need for your Paulsboro home and if you have a new or old system up for repair– pick McAllister Energy. You may select to correspond with us online or you can simply dial (856) 665-4545 to set up service.
Paulsboro Heating Services
As a company that has been in existence since 1876, McAllister Energy prides itself at offering superior installation, repair, and maintenance services for boilers and furnaces set up in residences throughout the South Jersey area, including Paulsboro and nearby areas. When it comes to heating up your Paulsboro, you have a range of options. McAllister Energy delivers the following services:
If you wish to guarantee the comfort and welfare of your family in the middle of the winter months, you must team up with McAllister Energy for the repair and maintenance of your boiler or furnace. Be sure to contact us for heating system installation, maintenance, replacement, and repair.
Paulsboro Heat Pump Services
It may be true that two is better than one, but there are particular exemptions to that. For example, installing a heat pump at home gives you the possibility to take pleasure in efficient heating and cooling all year. No matter what services you need, including but not limited to making a switch to a different HVAC system or replacing a broken hardware, McAllister Energy is right here to guide you with the following services:
McAllister Energy is the leading provider of heating and cooling options to every homeowner in Paulsboro since 1876. Get in touch with us now at (856) 665-4545 for an appointment for your heat pump installation needs, including maintenance and repair.
Commercial HVAC Services Paulsboro
Remember that commercial buildings need effective heating and cooling, too. The absence of a dependable HVAC system will definitely result in lessened performance and sales, owing to the discomfort of having to endure the heat or extreme cold. You probably already know by now that heating and cooling systems in commercial facilities are prone to a lot of stress, triggering them to end up being inefficient. We provide a wide variety of products and services developed primarily for the local commercial market. One of our experienced comfort care consultants can help create a complete installation, repair, and maintenance program customized specifically for your Paulsboro business.
There is no reason for you to put your establishment at a compromise by sacrificing comfort; all you must do is contact McAllister Energy. Contact us at (856) 665-4545 to schedule commercial HVAC services!
Paulsboro Indoor Air Quality
Lots of people are startled to find out that indoor air can be often times more polluted than outdoor air. There's a valid basis for this view since most houses and buildings these days are intended to be sealed off from the outdoors to guarantee that heated and cooled air won't escape. Even though this uses less energy, it can create indoor air that's full with invisible pollutants that negatively affect health and well-being. It is your responsibility as a homeowner to guarantee that the air your breathe inside is clean, and the best way to achieve that is by tapping the professional services of professional indoor air quality solutions in South Jersey.
When you need indoor air quality purification services in Paulsboro, there's only one name you need to know, McAllister Energy.
Paulsboro Points of Interest
The Borough of Paulsboro is located in Gloucester County, New Jersey. It was named after settler Samuel Phillip Paul and was incorporated as a borough on March 2, 1904. Today, Paulsboro is a 2.605 square miles industrial town. A local point of interest is the Tinicum Island Rear Range Light, which is an active lighthouse that is surrounded by ball fields and a marine terminal. There is also the Port of Paulsboro, which is located on the Mantua Creek and Delaware Creek. Another one is a historic landmark called Fort Billingsport, which is now a public park. Locals and visitors can dine in eateries such as John's Seafood, Paulsboro Diner, Gervasi's Restaurant, Bourbon & Brews, and Jacob's Pizza & Italian Cuisine. Notable people associated with Paulsboro include singer Joan Weber, NFL player Gerald Hodges, mime artist Tony Montanaro, singer Valvin Roane, and NFL wide receiver Flipper Anderson.
Paulsboro is located at 39.83039 Latitude and -75.24046 Longitude, within Gloucester County, New Jersey. It has a population of 5,958 with a $40,925 median income and with 2,229 households.
Local areas of interest
McAllister Energy
7116 Park Ave
Pennsauken, NJ 08109
(856) 665-4545
Choose McAllister for HVAC Services in Paulsboro, NJ
At McAllister Energy, we care about our customers and we're passionate about our work. We've been in the indoor comfort business since 1876. That's almost 150 years of HVAC experience. And yet, because the HVAC industry is constantly evolving, we continue to learn new things every day. When we go to work for you, we apply everything we know to solve the problem quickly, efficiently, and effectively. We've built our business from the ground up, and our commitment to your peace of mind grows stronger every day.
Whatever your heating and cooling needs in Paulsboro, McAllister Energy can help. Contact our expert HVAC technicians for assistance.
Local Reviews
for Paulsboro, NJ
McAllister Energy
Rated
5.0
out of 5 stars based on
6
customer reviews
---
Great service
James

-

Paulsboro

,

NJ

08066



Review of
McAllister Energy
Our heater was tuned up quickly and efficiently. Not only that, the dehumidifier was clogged and Dave was able to fix that without having to order a new part! Great result.
---
Great service
James

-

Paulsboro

,

NJ

08066



Review of
McAllister Energy
Very curteous, cleaned up when finished..
---
Amazing service! Hands down the best!
Cindy

-

Paulsboro

,

NJ

08066



Review of
McAllister Energy
The service was amazing. Every step of what needed to be done was explained. Also, when I asked questions on how to do something, Dave was kind enough to show me the necessary steps.
---
No complaints
Miller

-

Paulsboro

,

NJ

08066



Review of
McAllister Energy
Tech was here on time, cleaned up, no mess....Haven't used the heating system yet but with winter coming I will be
---
Tech concerned about fixing the problem quickly and correctly..
Chet

-

Paulsboro

,

NJ

08066



Review of
McAllister Energy
From the first phone call to the completion of the job,the experience was handled professionally and promptly..Greatly appreciated!
---
Great servicr
Florence

-

Paulsboro

,

NJ

08066



Review of
McAllister Energy
---
ADAM H.
BTU
Near

Beacon Ave,

Paulsboro

,

NJ

08066
ADAM H.
BTU
Near

Lincoln Ave,

Paulsboro

,

NJ

08066
Ed L.
Repairing a gas furnace
Near

Carter Hill Dr,

Paulsboro

,

NJ

08066
Ed L.
Repairing a Ruud oil furnace.
Near

Billings Ave,

Paulsboro

,

NJ

08066
Dave L.
Inspection of oil boiler and fuel oil tank.
Near

N Delaware St,

Paulsboro

,

NJ

08066
Dave L.
Annual precision tune up on a Carrier ac system (age 1990)
Near

Lincoln Ave,

Paulsboro

,

NJ

08066
Dave L.
Annual Carrier condensing gas furnace precision tune up and inspection.
Near

Lincoln Ave,

Paulsboro

,

NJ

08066
David C.
Tune up on well mclain ultra 105 3-ue and operations check.
Near

Greenwich Ave,

Paulsboro

,

NJ

08066
Dave L.
Annual AC tune up and replace thermostat
Near

Carter Hill Dr,

Paulsboro

,

NJ

08066
Dave L.
Annual tune up on oil furnace.
Near

Lincoln Ave,

Paulsboro

,

NJ

08066