Heating & Air Conditioning Services in Laurel Springs, New Jersey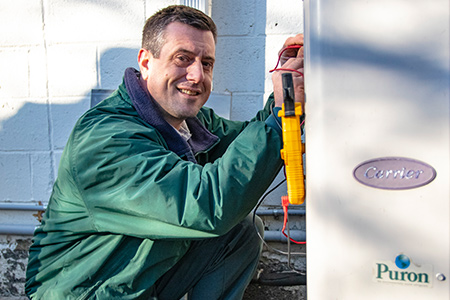 When you need heating or air conditioning services in Laurel Springs, there's only one choice to make, McAllister Energy. With over 100 years in the air conditioning and heating business, the HVAC experts at McAllister Energy skillfully repair and provide services for air conditioning, heating, and ventilation equipment.
Our services range from basic AC repairs and maintenance to extensive furnace troubleshooting and replacements. Our primary concern is you and your family's comfort in your Laurel Springs home or business. Our skilled technicians will assess your Laurel Springs property's HVAC system and install, replace, or perform the necessary repairs to get your property comfortable again.
We offer the following Laurel Springs HVAC services:
Laurel Springs Air Conditioning Repair Service

Laurel Springs Furnace Repair Service

Top Rated Laurel Springs HVAC Contractors

24 Hr Emergency Air Conditioning Repairs

24 Hr Emergency Furance Repairs

Furnace & Air Conditioning Installation Near Me In Laurel Springs

Local HVAC Installers Near Me In Laurel Springs
Learn More About Our HVAC Services Call Now: (856) 665-4545
At McAllister, we want to be the first (and last) call you need to make when hiring a heating and air conditioning contractor in Laurel Springs, New Jersey. For peace of mind knowing your Laurel Springs HVAC needs are always covered, you can count on us. We've been serving your Laurel Springs, NJ neighbors since 1876! Contact us today for all of your HVAC needs. Read more.
Laurel Springs Air Conditioning Services
Another amazing and fun-filled day at the Jersey shore for the whole family, but it's obvious that you want nothing more than a comfortable sleep as soon as you get home. But if the temperature level inside your Laurel Springs home is as hot as the weather condition outside, it could be too uncomfortable to relax. But don't despair because we are here to offer you the best cooling options through our air conditioner services for the residents of Laurel Springs, New Jersey:
It does not matter what kind of AC and cooling service you need for your Laurel Springs home and if you have a new or old unit up for repair– choose McAllister Energy. You may select to correspond with us on the web or you can simply dial (856) 665-4545 for your appointment.
Laurel Springs Heating Services
As a firm that has remained in existence since 1876, McAllister Energy prides itself at providing premium installation, repair, and maintenance services for boilers and furnaces set up in residences all throughout the South Jersey area, including Laurel Springs and surrounding locations. You deserve to heat your Laurel Springs home with maximum comfort, which is why we offer a number of choices for you to choose. We currently deliver the following:
If you wish to guarantee the convenience and safety of your family during the winter months, you must partner with McAllister Energy for the routine maintenance of your boiler or furnace. Don't think twice about getting in touch with us for all your heating equipment maintenance, installation, and repair needs.
Laurel Springs Heat Pump Services
It may be true that two is better than one, but there are particular exceptions to that. For instance, the move to set up a heat pump permits you to have an effective heating and cooling equipment for the whole year. Whether you're looking to make the switch from another variety of HVAC system to a heat pump, or you want to replace or repair existing equipment, McAllister Energy's technicians can deliver high-quality services, featuring:
McAllister Energy began in 1876, and since then, we've turned into the best heating and cooling service provider for homeowners in the Laurel Springs area. Don't think twice to give us a call at (856) 665-4545 for an appointment for your heat pump installation needs, including maintenance and repair.
Commercial HVAC Services Laurel Springs
Reliable heating and cooling are just as essential for commercial properties. In the absence of an effective HVAC system, your employees may be less efficient or sales could decline due to your customers' discomfort. Commercial heating and cooling systems are consistently subjected to extreme operational stress and commonly lose effectiveness with time. We offer a wide array of products and services developed specifically for the local commercial market. One of our experienced comfort care consultants can help develop a complete installation, repair, and maintenance solution tailored precisely for your Laurel Springs business.
Why jeopardize the convenience of your business when McAllister Energy is a call away? Call us at (856) 665-4545 to set up commercial HVAC services!
Laurel Springs Indoor Air Quality
Lots of people do not recognize that indoor air is really more polluted when compared to the air outside. That's due to the fact that most properties today are closed tight to keep heated and cooled air from spilling out. The problem with the principle of trapping air inside is that even if it saves energy, it likewise breeds contaminants that will affect the health of everybody living inside. As a responsible property owner, it is your job to guarantee that the quality of air inside your house is clean, and the only way to do that is by working with indoor air quality services in South Jersey.
When you need indoor air quality purification services in Laurel Springs, there's only one name you need to know, McAllister Energy.
Laurel Springs Points of Interest
Laurel Springs is a borough in the state of New Jersey, specifically in Camden County. The borough is one of the smallest in the county and state in terms of population as it only has less than 2,000 residents. Laurel Springs was incorporated through an act of the New Jersey Legislature in April of 1913. The borough obtained territory from Clementon Township via a referendum. The interesting name of the borough comes from the fact that the area is known for its therapeutic springs found in the laurel groves. Former MLB relief pitcher for the Cleveland Indians and Detroit Tigers Ray Narleski was born in Laurel Springs. Also, renowned poet Walt Whitman built a summer home in Laurel Springs.
Laurel Springs is located at 39.82011 Latitude and -75.00628 Longitude, within Camden County, New Jersey. It has a population of 1,884 with a $81,250 median income and with 677 households.
Local areas of interest
McAllister Energy
7116 Park Ave
Pennsauken, NJ 08109
(856) 665-4545
Choose McAllister for HVAC Services in Laurel Springs, NJ
At McAllister Energy, we care about our customers and we're passionate about our work. We've been in the indoor comfort business since 1876. That's almost 150 years of HVAC experience. And yet, because the HVAC industry is constantly evolving, we continue to learn new things every day. When we go to work for you, we apply everything we know to solve the problem quickly, efficiently, and effectively. We've built our business from the ground up, and our commitment to your peace of mind grows stronger every day.
Whatever your heating and cooling needs in Laurel Springs, McAllister Energy can help. Contact our expert HVAC technicians for assistance.
Local Reviews
for Laurel Springs, NJ
McAllister Energy
Rated
5.0
out of 5 stars based on
1
customer reviews
---
Great service
Jeffery

-

Laurel Springs

,

NJ

08021



Review of
McAllister Energy
---
Ed L.
Cleaning a Williamson furnace.
Near

Walnut Ave,

Laurel Springs

,

NJ

08021
David C.
A/C heater cleanings
Near

W Kennedy Dr,

Laurel Springs

,

NJ

08021
David C.
A/C , Heater, Heh cleanings
Near

W Kennedy Dr,

Laurel Springs

,

NJ

08021
David C.
Rudd oil furnace cleaning.
Near

Maurer Ave,

Laurel Springs

,

NJ

08021
David C.
Williamson 80% low boy oil furnace cleaning
Near

Maurer Ave,

Laurel Springs

,

NJ

08021
Thomas G.
80+ Lennox gas furnace
Near

Lakeview Ave,

Laurel Springs

,

NJ

08021
Thomas G.
Near

Lakeview Ave,

Laurel Springs

,

NJ

08021
Thomas G.
90+ gas furnace
Near

Lakeview Ave,

Laurel Springs

,

NJ

08021
Dave L.
Indoor blower for oil furnace won't shut off, operating constantly.
Near

Lindsay Ave,

Laurel Springs

,

NJ

08021
Thomas G.
Carrier 90+ furnace
Near

W Maple Ave,

Laurel Springs

,

NJ

08021