Heating & Air Conditioning Services in Woodbury, New Jersey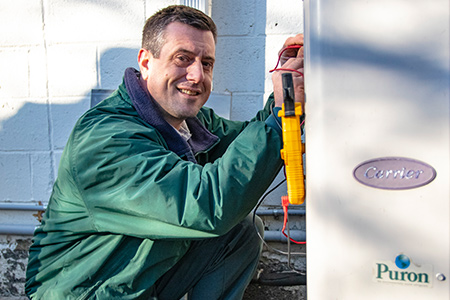 When you need heating or air conditioning services in Woodbury, there's only one choice to make, McAllister Energy. With over 100 years in the air conditioning and heating business, the HVAC experts at McAllister Energy skillfully repair and provide services for air conditioning, heating, and ventilation equipment.
Our services range from basic AC repairs and maintenance to extensive furnace troubleshooting and replacements. Our primary concern is you and your family's comfort in your Woodbury home or business. Our skilled technicians will assess your Woodbury property's HVAC system and install, replace, or perform the necessary repairs to get your property comfortable again.
We offer the following Woodbury HVAC services:
Woodbury Air Conditioning Repair Service

Woodbury Furnace Repair Service

Top Rated Woodbury HVAC Contractors

24 Hr Emergency Air Conditioning Repairs

24 Hr Emergency Furance Repairs

Furnace & Air Conditioning Installation Near Me In Woodbury

Local HVAC Installers Near Me In Woodbury
Learn More About Our HVAC Services Call Now: (856) 665-4545
At McAllister, we want to be the first (and last) call you need to make when hiring a heating and air conditioning contractor in Woodbury, New Jersey. For peace of mind knowing your Woodbury HVAC needs are always covered, you can count on us. We've been serving your Woodbury, NJ neighbors since 1876! Contact us today for all of your HVAC needs. Read more.
Woodbury Air Conditioning Services
After a hectic day at the Jersey shore and fun-filled night at the boardwalk, your family eagerly anticipates returning home to a cool home where they can rest after the day's activities. The problem though is that the temperature in your Woodbury home is almost unbearable, something that makes it practically inconceivable to find comfort and relaxation. So as to keep you and your family comfortable, even when the temperatures are reaching record highs, we offer the following air conditioner services in Woodbury, New Jersey:
When it comes to something related to cooling systems, we at McAllister Energy serve every residential needs in Woodbury, so go with us if you require repair, installation, and maintenance solutions. Check out our website or give us a call at (856) 665-4545 for your appointment.
Woodbury Heating Services
The specialists at McAllister Energy have been servicing homes in the South Jersey region, including Woodbury since 1876, and we are pleased to declare that we are the best in the industry when it comes to the installation, repair, and upkeep of boilers and furnaces. You deserve to heat your Woodbury home with maximum comfort, which is why we offer a number of options for you to go with. We currently offer the following:
If you would like to guarantee the convenience and safety of your family in the middle of the winter months, you must team up with McAllister Energy for the servicing of your boiler or furnace. Call us to arrange heating system installation, replacement, or repair!
Woodbury Heat Pump Services
They say that two is often better than one, yet there are exceptions to that rule. As an example, the move to set up a heat pump allows you to have an effective heating and cooling system for the whole year. Whether you're seeking to make the switch from another kind of HVAC system to a heat pump, or you want to replace or repair existing equipment, McAllister Energy's service technicians can deliver high-quality services, featuring:
McAllister Energy began in 1876, and ever since, we've become the leading heating and cooling service provider for homeowners in the Woodbury area. Don't think twice to give us a call at (856) 665-4545 to set up a service appointment for heat pump installation, repair, and maintenance.
Commercial HVAC Services Woodbury
Even commercial properties and business establishments yearn for efficient heating and cooling. In the absence of an effective HVAC system, your employees might be less efficient or sales could drop due to your customers' distress. You probably already know by now that heating and cooling systems in commercial settings are prone to a lot of stress, triggering them to become inefficient. We provide a wide array of products and services designed specifically for the local commercial market. One of our knowledgeable comfort care experts can help create a complete installation, repair, and maintenance program tailored precisely for your Woodbury business.
You don't really need to risk the comfort level of your business or office premises, so work with McAllister Energy today. Give us a call at (856) 665-4545 to book a commercial HVAC services appointment today.
Woodbury Indoor Air Quality
It is a complete revelation for a number of individuals to know that indoor air is a lot dirtier and more contaminated than outdoor air. That's due to the fact that most properties today are sealed tight to keep heated and cooled air from leaking out. The problem with the idea of holding air inside is that even if it conserves energy, it also breeds pollutants that will influence the health of everybody living inside. It is your obligation as a homeowner to make certain that the air your breathe inside is clean, and the most ideal way to achieve that is by tapping the services of professional indoor air quality services in South Jersey.
When you need indoor air quality purification services in Woodbury, there's only one name you need to know, McAllister Energy.
Woodbury Points of Interest
Woodbury City, one of the oldest small cities in the US, is located in Gloucester County, New Jersey. It was founded in 1683 by a Quaker from Bury, England named Henry Wood. Originally incorporated as a borough, Woodbury was reincorporated as a city on January 2, 1871. Today, Woodbury is the county seat for Gloucester and it has been so for over two centuries. This, and because Inspira Medical Center is within its borders, made the city the legal and medical hub in the county. Local points of interest are the Broad Street Historic District and the Gloucester County Courthouse which are listed on the New Jersey Register of Historic Places. Residents can enjoy many outdoor activities in the parks throughout the city such as the Woodbury Rotary Park, Bell Lake Park, Stuart Street Play Area, and Lafayette Park. Notable residents associated with Woodbury include actor Don Amendolia, comedian Grace Helbig, NFL player Mike Cox, soccer player Tyler Miller, NASCAR driver D.K. Ulrich, and pitcher Dan Meyer to name a few.
Woodbury is located at 39.83817 Latitude and -75.15268 Longitude, within Gloucester County, New Jersey. It has a population of 9,962 with a $51,922 median income and with 4,023 households.
Local areas of interest
McAllister Energy
7116 Park Ave
Pennsauken, NJ 08109
(856) 665-4545
Choose McAllister for HVAC Services in Woodbury, NJ
At McAllister Energy, we care about our customers and we're passionate about our work. We've been in the indoor comfort business since 1876. That's almost 150 years of HVAC experience. And yet, because the HVAC industry is constantly evolving, we continue to learn new things every day. When we go to work for you, we apply everything we know to solve the problem quickly, efficiently, and effectively. We've built our business from the ground up, and our commitment to your peace of mind grows stronger every day.
Whatever your heating and cooling needs in Woodbury, McAllister Energy can help. Contact our expert HVAC technicians for assistance.
Local Reviews
for Woodbury, NJ
McAllister Energy
Rated
4.8
out of 5 stars based on
5
customer reviews
Powered by Nearby Now
---
Service review.
Hannon

-

Woodbury

,

NJ



Review of McAllister Energy
We've been using you for over 15 yrs and have always been satified with your products and people. All your technicians are great. Today for example we met David Castillio. He was mild mannered competent efficient and personable. Keep up the good work! David thanks and the best of luck.
---
Service
James

-

Woodbury

,

NJ



Review of McAllister Energy
Big sexy
---
AC Repair
Lloyd

-

Woodbury

,

NJ



Review of McAllister Energy
---
Great service
James

-

Woodbury

,

NJ



Review of McAllister Energy
---
Great service. The gentleman was very nice.
Annalee

-

Woodbury

,

NJ



Review of McAllister Energy
I wish you would call me to remind me I need to make a service appt.
---
Ed L.
Checking out a water leak
Near
Myrtle Ave,

Woodbury

,

NJ

08096
David C.
Near
Hunter St,

Woodbury

,

NJ

08096
David C.
Well McClain 80% oil boiler pre-season tuneup
Near
Hunter St,

Woodbury

,

NJ

08096
Dave L.
Annual AC precision tune up.
Near
Ash Ave,

Woodbury

,

NJ

08096
Dave L.
Natural gas odors coming from a 1997 Carrier condensing gas furnace while in operation.
Near
Locksley Ln,

Woodbury

,

NJ

08096
Andrew P.
Performing Annual Tune-up on Oil-Fired Hot Water Boiler.
Near
Dubois Ave,

Woodbury

,

NJ

08096
Andrew P.
Performing Annual Tune-up on Oil-Fired Hot Water Boiler.
Near
Dubois Ave,

Woodbury

,

NJ

08096
Andrew P.
Performing Annual Tune-up on Oil-Fired Hot Water Boiler.
Near
Hunter St,

Woodbury

,

NJ

08096
Andrew P.
Performing Annual Tune-up on Oil-Fired Hot Water Boiler.
Near
Hunter St,

Woodbury

,

NJ

08096
Ed L.
Cleaning an Amana gas furnace.
Near
Morning Glory,

Woodbury

,

NJ

08096