Heating & Air Conditioning Services in Penns Grove, New Jersey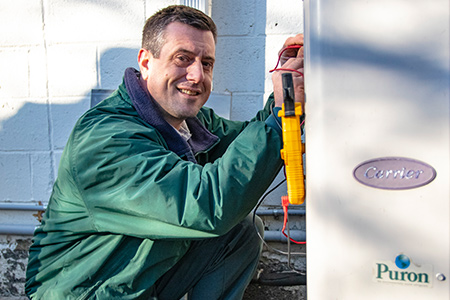 When you need heating or air conditioning services in Penns Grove, there's only one choice to make, McAllister Energy. With over 100 years in the air conditioning and heating business, the HVAC experts at McAllister Energy skillfully repair and provide services for air conditioning, heating, and ventilation equipment.
Our services range from basic AC repairs and maintenance to extensive furnace troubleshooting and replacements. Our primary concern is you and your family's comfort in your Penns Grove home or business. Our skilled technicians will assess your Penns Grove property's HVAC system and install, replace, or perform the necessary repairs to get your property comfortable again.
We offer the following Penns Grove HVAC services:
Penns Grove Air Conditioning Repair Service

Penns Grove Furnace Repair Service

Top Rated Penns Grove HVAC Contractors

24 Hr Emergency Air Conditioning Repairs

24 Hr Emergency Furance Repairs

Furnace & Air Conditioning Installation Near Me In Penns Grove

Local HVAC Installers Near Me In Penns Grove
Learn More About Our HVAC Services Call Now: (856) 665-4545
At McAllister, we want to be the first (and last) call you need to make when hiring a heating and air conditioning contractor in Penns Grove, New Jersey. For peace of mind knowing your Penns Grove HVAC needs are always covered, you can count on us. We've been serving your Penns Grove, NJ neighbors since 1876! Contact us today for all of your HVAC needs. Read more.
Penns Grove Air Conditioning Services
Shortly after a hectic day at the Jersey shore and fun-filled night at the boardwalk, your family anticipates returning home to a cool home where they can rest after the day's adventures. Your problem though is that when you get to your Penns Grove home, you understand that the temperature inside and out is scorching hot, and you feel like there is no way to find comfort in it. But don't despair because we are here to give you the best cooling services through our air conditioner professional services for the residents of Penns Grove, New Jersey:
Whether you want a new system put up in Penns Grove, or an old system maintained or restored, choose McAllister Energy. You may choose to correspond with us on the web or you can just dial (856) 665-4545 for your appointment.
Penns Grove Heating Services
McAllister Energy has been installing and repairing boilers and furnaces all over South Jersey, including Penns Grove, since 1876, which is why you can rely upon our heating technicians will get the job done promptly and effectively. You deserve to heat your Penns Grove home with utmost comfort, which is why we give a handful of solutions for you to choose. McAllister Energy delivers the following solutions:
Your job is to keep everybody in the family comfortable and safe all through the severe winter season in Jersey, and to accomplish that, you must tap McAllister Energy for the maintenance of your boiler or furnace. Get in touch with us to arrange heating system installation, replacement, or repair!
Penns Grove Heat Pump Services
They say that two is often better than one, yet there are exemptions to that rule. For instance, the decision to setup a heat pump makes it possible for you to have an efficient heating and cooling system for the whole year. Whatever services you need, including but not limited to making a switch to another HVAC system or replacing a broken equipment, McAllister Energy is here to support you with the following services:
McAllister Energy started in 1876, and ever since, we've become the best heating and cooling contractor for homeowners in the Penns Grove area. Call us at (856) 665-4545 for an appointment for your heat pump installation needs, involving maintenance and repair.
Commercial HVAC Services Penns Grove
Keep in mind that commercial buildings need effective heating and cooling, too. In the absence of an effective HVAC system, your employees could be less efficient or sales could decline due to your customers' distress. Commercial heating and cooling systems are repeatedly dependent extreme working stress and typically reduce efficiency over time. Fortunately, we provide you a number of products and services that will let you transform your commercial office into a relaxing living area for workers and patrons alike. What we carry out is we will send you an experienced and trained expert to help in the development of a detailed installation, maintenance, and repair developed for your Penns Grove business or commercial space.
You don't really need to risk the comfort level of your company or office premises, so partner with McAllister Energy today. Talk to us today at (856) 665-4545 for a discussion on our commercial HVAC services.
Penns Grove Indoor Air Quality
Many people do not understand that indoor air is really more polluted when compared to the air outside. The reason is that most properties in the modern day, including homes, are made to be sealed off from the outside, the reason of which is to keep warmed as well as cooled air from leaking. Even though this conserves energy, it can develop indoor air that's infested with invisible contaminants that detrimentally influence health and well-being. As a savvy homeowner, it is your responsibility to guarantee that the quality of air inside your home is clean, and the only way to do that is by working with indoor air quality services in South Jersey.
When you need indoor air quality purification services in Penns Grove, there's only one name you need to know, McAllister Energy.
Penns Grove Points of Interest
Located in Salem County, New Jersey, Penns Grove Borough was incorporated in March 8, 1894. It was named after English nobleman William Penn. It has a total area of 0.912 square miles and is bordered by the Delaware River and Carneys Point Township. Residents in the area can enjoy dining in restaurants such as Sabor Latino, Di Paolo's Italian Ristorante, Pats Pizzeria, and Taqueria Atexquita. The borough also has a commercial district along Route 130 with stores like Incollingo's Penns Grove Market, Inky's Discount Liquors, and a Rite Aid to name a few. A few of the notable people associated with Penns Grove include playwright Paul Foster, actor Bruce Willis, painter Ernest Martin Hennings, and Olympics gold medal winner Don Bragg.
Penns Grove is located at 39.7295581 Latitude and -75.4679734 Longitude, within Salem County, New Jersey. It has a population of 5,147 with a $37,188 median income and with 2,095 households.
Local areas of interest
McAllister Energy
7116 Park Ave
Pennsauken, NJ 08109
(856) 665-4545
Choose McAllister for HVAC Services in Penns Grove, NJ
At McAllister Energy, we care about our customers and we're passionate about our work. We've been in the indoor comfort business since 1876. That's almost 150 years of HVAC experience. And yet, because the HVAC industry is constantly evolving, we continue to learn new things every day. When we go to work for you, we apply everything we know to solve the problem quickly, efficiently, and effectively. We've built our business from the ground up, and our commitment to your peace of mind grows stronger every day.
Whatever your heating and cooling needs in Penns Grove, McAllister Energy can help. Contact our expert HVAC technicians for assistance.
Local Reviews
for Penns Grove, NJ
McAllister Energy
Rated
5.0
out of 5 stars based on
1
customer reviews
Powered by Nearby Now
---
Great service
Thomas lyster

-

Penns Grove

,

NJ



Review of McAllister Energy
Man was very polight
---
Steve K.
Gas heat tune up
Near
Westminster Ave,

Penns Grove

,

NJ

08069