Heating & Air Conditioning Services in Mickleton, New Jersey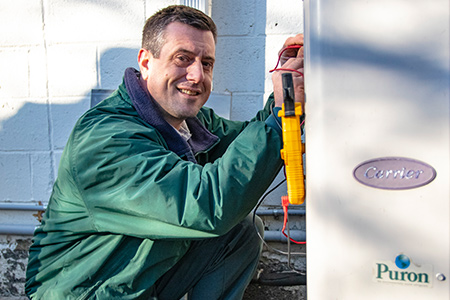 When you need heating or air conditioning services in Mickleton, there's only one choice to make, McAllister Energy. With over 100 years in the air conditioning and heating business, the HVAC experts at McAllister Energy skillfully repair and provide services for air conditioning, heating, and ventilation equipment.
Our services range from basic AC repairs and maintenance to extensive furnace troubleshooting and replacements. Our primary concern is you and your family's comfort in your Mickleton home or business. Our skilled technicians will assess your Mickleton property's HVAC system and install, replace, or perform the necessary repairs to get your property comfortable again.
We offer the following Mickleton HVAC services:
Mickleton Air Conditioning Repair Service

Mickleton Furnace Repair Service

Top Rated Mickleton HVAC Contractors

24 Hr Emergency Air Conditioning Repairs

24 Hr Emergency Furance Repairs

Furnace & Air Conditioning Installation Near Me In Mickleton

Local HVAC Installers Near Me In Mickleton
Learn More About Our HVAC Services Call Now: (856) 665-4545
At McAllister, we want to be the first (and last) call you need to make when hiring a heating and air conditioning contractor in Mickleton, New Jersey. For peace of mind knowing your Mickleton HVAC needs are always covered, you can count on us. We've been serving your Mickleton, NJ neighbors since 1876! Contact us today for all of your HVAC needs. Read more.
Mickleton Air Conditioning Services
You and the entire family spent the whole day having fun at the Jersey shore and spending the night at the boardwalk; but at the day's end, you wish nothing but a good night sleep and rest in your home. But if the temperature inside your Mickleton home is as hot as the weather condition outside, it could be too uncomfortable to rest. For you to ensure the comfort inside your home, we supply you the best cooling and air conditioner solutions in Mickleton, New Jersey:
When it comes to anything pertaining to cooling systems, we at McAllister Energy serve every residential needs in Mickleton, so go with us if you need repair, installation, and maintenance solutions. Contact us online or call us at (856) 665-4545 to schedule service.
Mickleton Heating Services
The professionals at McAllister Energy have been servicing homes in the South Jersey area, including Mickleton since 1876, and we are proud to proclaim that we are the finest in the industry when it comes to the installation, repair, and upkeep of boilers and furnaces. When it comes to heating up your Mickleton, you have a variety of choices. McAllister Energy offers the following services:
Help keep your family comfortable through the bitter cold Jersey winters with a reliable furnace or boiler system from McAllister Energy. Be sure to give us a ring for heating system installation, maintenance, replacement, and repair.
Mickleton Heat Pump Services
It's commonly said that two is better than one, but that's not always the case. By installing a heat pump, your home will experience efficient heating and cooling year round. Whether you're seeking to make the switch from another kind of HVAC system to a heat pump, or you need to replace or repair existing equipment, McAllister Energy's service technicians can provide high-quality services, including:
McAllister Energy is the leading provider of heating and cooling options to every resident in Mickleton since 1876. Call us at (856) 665-4545 to set up a service appointment for heat pump installation, repair, and maintenance.
Commercial HVAC Services Mickleton
Even commercial properties and business facilities yearn for efficient heating and cooling. The absence of a dependable HVAC system will most definitely contribute to lessened productivity and revenues, owing to the distress of having to endure the heat or extreme cold. In the commercial setting, heating and cooling systems might quickly turn inefficient because of intense operational stress. The good news for you is that we are a dependable company which offers an extensive array of products and services created primarily for the local commercial market. We will send you a consultant whose competence is comfort care, the purpose of which is to plan a thorough installation, maintenance, and repair programs for your Mickleton building or business area.
Why risk the convenience of your small business when McAllister Energy is a call away? Contact us at (856) 665-4545 to book a commercial HVAC services appointment today.
Mickleton Indoor Air Quality
It is a total revelation for a number of people to find out that indoor air is a lot dirtier and more contaminated than outdoor air. There's a valid basis for this observation since most homes and properties these days are intended to be sealed off from the outside to guarantee that heated and cooled air won't get out. Yes, it uses less energy, but the problem is that indoor air that does not spread and get out will subsequently become clogged with unnoticeable contaminants, which in turn will affect everyone's health inside. It is your obligation as a homeowner to ensure that the air your breathe inside is clean, and the most ideal way to achieve that is by tapping the services of expert indoor air quality solutions in South Jersey.
When you need indoor air quality purification services in Mickleton, there's only one name you need to know, McAllister Energy.
Mickleton Points of Interest
Mickleton is an unincorporated community located within East Greenwich Township, Gloucester County, New Jersey. Its Quaker roots is still very present throughout the community with buildings from the 17th and 18th century still standing. Examples of such are a Quaker Church, the Friend's Meeting House, and the Little Red School House. A local point of interest is the Bodo Otto House that was built in 1766 and was added to the National Register of Historic Places on December 1976. Another one is the Thompson Family Park that has playgrounds, a dog park, a walking path, and different sports fields. A notable person associated with Mickleton is politician Martin A. Herman.
Mickleton is located at 39.7904071 Latitude and -75.2378013 Longitude, within Gloucester County, New Jersey. It has a population of 4,736 with a $158,359 median income and with 1,531 households.
Local areas of interest
McAllister Energy
7116 Park Ave
Pennsauken, NJ 08109
(856) 665-4545
Choose McAllister for HVAC Services in Mickleton, NJ
At McAllister Energy, we care about our customers and we're passionate about our work. We've been in the indoor comfort business since 1876. That's almost 150 years of HVAC experience. And yet, because the HVAC industry is constantly evolving, we continue to learn new things every day. When we go to work for you, we apply everything we know to solve the problem quickly, efficiently, and effectively. We've built our business from the ground up, and our commitment to your peace of mind grows stronger every day.
Whatever your heating and cooling needs in Mickleton, McAllister Energy can help. Contact our expert HVAC technicians for assistance.
Local Reviews
for Mickleton, NJ
---
David C.
No AC Found and replaced bad blower capacitor
Near

Hopkins Rd,

Mickleton

,

NJ

08056
Thomas G.
Carrier oil fired furnace
Near

E Tomlin Station Rd,

Mickleton

,

NJ

08056
Thomas G.
Lennox split system AC
Near

Stone Ridge Dr,

Mickleton

,

NJ

08056
Ed L.
Cleaning commercial split air conditioning units
Near

Southgate Ct,

Mickleton

,

NJ

08056