Heating & Air Conditioning Services in Merchantville, New Jersey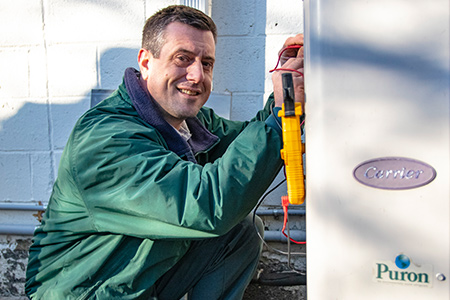 When you need heating or air conditioning services in Merchantville, there's only one choice to make, McAllister Energy. With over 100 years in the air conditioning and heating business, the HVAC experts at McAllister Energy skillfully repair and provide services for air conditioning, heating, and ventilation equipment.
Our services range from basic AC repairs and maintenance to extensive furnace troubleshooting and replacements. Our primary concern is you and your family's comfort in your Merchantville home or business. Our skilled technicians will assess your Merchantville property's HVAC system and install, replace, or perform the necessary repairs to get your property comfortable again.
We offer the following Merchantville HVAC services:
Merchantville Air Conditioning Repair Service

Merchantville Furnace Repair Service

Top Rated Merchantville HVAC Contractors

24 Hr Emergency Air Conditioning Repairs

24 Hr Emergency Furance Repairs

Furnace & Air Conditioning Installation Near Me In Merchantville

Local HVAC Installers Near Me In Merchantville
Learn More About Our HVAC Services Call Now: (856) 665-4545
At McAllister, we want to be the first (and last) call you need to make when hiring a heating and air conditioning contractor in Merchantville, New Jersey. For peace of mind knowing your Merchantville HVAC needs are always covered, you can count on us. We've been serving your Merchantville, NJ neighbors since 1876! Contact us today for all of your HVAC needs. Read more.
Merchantville Air Conditioning Services
After a busy day at the Jersey shore and fun-filled night at the boardwalk, your family anticipates returning home to a cool home where they can relax after the day's activities. The concern though is that the temperature level in your Merchantville home is almost intolerable, something that makes it nearly inconceivable to find comfort and relaxation. So as to keep you and your family comfortable, even when the temperature levels are reaching record highs, we deliver the following air conditioner services in Merchantville, New Jersey:
When it comes to anything related to cooling systems, we at McAllister Energy serve every residential needs in Merchantville, so select us if you require repair, installation, and maintenance services. Contact us online or call us at (856) 665-4545 to set up service.
Merchantville Heating Services
McAllister Energy has been installing and repairing boilers and furnaces throughout South Jersey, including Merchantville, since 1876, which is why you can depend on our heating specialists will get the job done promptly and effectively. Effective heating for your Merchantville home means having to select from a wide range of choices. McAllister Energy offers the following services:
Keep your family comfortable through the harsh cold Jersey winters with a dependable furnace or boiler equipment from McAllister Energy. Don't think twice about getting in touch with us for all your heating equipment maintenance, installation, and repair needs.
Merchantville Heat Pump Services
They say that two is often better than one, yet there are exceptions to that rule. For instance, setting up a heat pump at home gives you the possibility to take pleasure in efficient heating and cooling all year. At McAllister Energy, we cater to a handful of services related to your heating and cooling systems, so talk to us when you need the following:
McAllister Energy is the leading service provider of heating and cooling options to every homeowner in Merchantville since 1876. Get in touch with us today at (856) 665-4545 for an appointment for your heat pump installation needs, involving maintenance and repair.
Commercial HVAC Services Merchantville
Efficient heating and cooling are equally as crucial for commercial properties. You can not afford to have an ineffective HVAC system because the uneasiness it leads to might induce low productivity and sales. You probably already know by now that heating and cooling systems in commercial facilities are prone to a lot of stress, triggering them to end up being inefficient. The good thing is, we supply you a number of products and services that will help you transform your commercial area into a relaxing living space for employees and patrons alike. What we do is we will send you an experienced and trained consultant to help in the development of a comprehensive installation, maintenance, and repair developed for your Merchantville business or commercial space.
There is no reason for you to put your company at a compromise by sacrificing comfort; all you must do is get in touch with McAllister Energy. Contact us at (856) 665-4545 to set up commercial HVAC services!
Merchantville Indoor Air Quality
Lots of people are startled to learn that indoor air can be often times more contaminated than outdoor air. There's a valid basis for this view since most houses and properties these days are intended to be sealed off from the outdoors to assure that heated and cooled air won't get out. Although this conserves energy, it can create indoor air that's full with invisible toxins that detrimentally affect health and well-being. Always keep the air quality in your home as clean as possible with indoor air quality services in South Jersey.
When you need indoor air quality purification services in Merchantville, there's only one name you need to know, McAllister Energy.
Merchantville Points of Interest
Merchantville is a borough located in Camden County, state of New Jersey. It was incorporated as a borough via an act of the New Jersey Legislature in March of 1874. The borough got its territory from Delaware Township, although the township is currently known as Cherry Hill. Merchantville also got some land from Stockton Township. There are two contrasting stories about the origin of the name of the borough. For instance, some locals think that it comes from a family named Merchant, while a historian named Francis F. Eastlack claimed that the name came from four developers in the area named John Louty, Samuel McFadden, Frederick Gerker, and Matthias Homer, who once had a meeting about coming up with a name for the community. They eventually decided to name it Merchantville considering that they were all merchants.
Merchantville is located at 39.94734 Latitude and -75.06656 Longitude, within Camden County, New Jersey. It has a population of 3,766 with a $69,833 median income and with 1,466 households.
Local areas of interest
McAllister Energy
7116 Park Ave
Pennsauken, NJ 08109
(856) 665-4545
Choose McAllister for HVAC Services in Merchantville, NJ
At McAllister Energy, we care about our customers and we're passionate about our work. We've been in the indoor comfort business since 1876. That's almost 150 years of HVAC experience. And yet, because the HVAC industry is constantly evolving, we continue to learn new things every day. When we go to work for you, we apply everything we know to solve the problem quickly, efficiently, and effectively. We've built our business from the ground up, and our commitment to your peace of mind grows stronger every day.
Whatever your heating and cooling needs in Merchantville, McAllister Energy can help. Contact our expert HVAC technicians for assistance.
Local Reviews
for Merchantville, NJ
McAllister Energy
Rated
5.0
out of 5 stars based on
5
customer reviews
---
Great Service!
B

-

Merchantville

,

NJ

08109



Review of
McAllister Energy
Ed was so nice, listened to my problem and fixed the ongoing issue quickly!
---
Great customer service
Sam

-

Merchantville

,

NJ

08109



Review of
McAllister Energy
Very knowledgeable and gave me good advice on HVAC questions.
---
David was great!
Sam

-

Merchantville

,

NJ

08109



Review of
McAllister Energy
David was great. I had a ton of questions about my system and he answered everything with good explanations. He made sure my system was running as efficiently as possible.
---
Heater Service
Lisa

-

Merchantville

,

NJ

08109



Review of
McAllister Energy
Dave did a terrific job. He took care of our heater and my steam boiler. It's the first time McAllister serviced the boiler and Dave identified and repaired what could have been a major safety issue with the pressure valve, and he also patched the cement around the vent. He was very thorough and also helped me confirm that I had the correct settings on my thermostat of the boiler system.
---
Great Service
Ruth

-

Merchantville

,

NJ

08109



Review of
McAllister Energy
Great service from a trusted company. Zach was friendly, efficient and took the time to answer questions.
---
ADAM H.
BTU
Near

Leslie Ave,

Merchantville

,

NJ

08109
ADAM H.
BTU
Near

Ivins Ave,

Merchantville

,

NJ

08109
Ed L.
Checking out an issue with a Weil McLain boiler.
Near

Locust St,

Merchantville

,

NJ

08109
Ed L.
Repairing a gas leak.
Near

W Walnut Ave,

Merchantville

,

NJ

08109
David C.
Furnace cleaning
Near

Clifton Ave,

Merchantville

,

NJ

08109
Dave L.
Emergency service call for no air conditioning, also install a customer supplied Glas brand WiFi thermostat.
Near

S Center St,

Merchantville

,

NJ

08109
Ed L.
Cleaning a Carrier AC system.
Near

E Maple Ave,

Merchantville

,

NJ

08109
Ed L.
Working on a Columbia Boiler
Near

Locust St,

Merchantville

,

NJ

08109
Ed L.
Balancing ductwork on a Gibson AC
Near

E Chestnut Ave,

Merchantville

,

NJ

08109
Ed L.
Cleaning a Goodman AC
Near

E Chestnut Ave,

Merchantville

,

NJ

08109