Heating & Air Conditioning Services in Mantua, New Jersey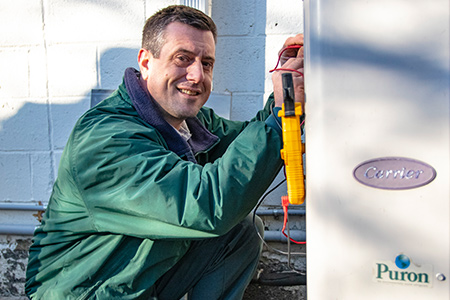 When you need heating or air conditioning services in Mantua, there's only one choice to make, McAllister Energy. With over 100 years in the air conditioning and heating business, the HVAC experts at McAllister Energy skillfully repair and provide services for air conditioning, heating, and ventilation equipment.
Our services range from basic AC repairs and maintenance to extensive furnace troubleshooting and replacements. Our primary concern is you and your family's comfort in your Mantua home or business. Our skilled technicians will assess your Mantua property's HVAC system and install, replace, or perform the necessary repairs to get your property comfortable again.
We offer the following Mantua HVAC services:
Mantua Air Conditioning Repair Service

Mantua Furnace Repair Service

Top Rated Mantua HVAC Contractors

24 Hr Emergency Air Conditioning Repairs

24 Hr Emergency Furance Repairs

Furnace & Air Conditioning Installation Near Me In Mantua

Local HVAC Installers Near Me In Mantua
Learn More About Our HVAC Services Call Now: (856) 665-4545
At McAllister, we want to be the first (and last) call you need to make when hiring a heating and air conditioning contractor in Mantua, New Jersey. For peace of mind knowing your Mantua HVAC needs are always covered, you can count on us. We've been serving your Mantua, NJ neighbors since 1876! Contact us today for all of your HVAC needs. Read more.
Mantua Air Conditioning Services
After a bustling day at the Jersey shore and fun-filled night at the boardwalk, your family anticipates returning home to a cool home where they can relax after the day's adventures. The problem though is that the temperature in your Mantua home is almost intolerable, something that makes it nearly difficult to find comfort and relaxation. For you to ensure the comfort inside your living space, we supply you the best cooling and air conditioner services in Mantua, New Jersey:
Regardless if you need a new system set up in Mantua, or an old system maintained or fixed, go with McAllister Energy. You may select to correspond with us online or you can just dial (856) 665-4545 for your appointment.
Mantua Heating Services
As a firm that has remained in existence since 1876, McAllister Energy prides itself at supplying excellent installation, repair, and maintenance services for boilers and furnaces installed in homes all throughout the South Jersey region, including Mantua and nearby places. When it comes to heating your Mantua, you have a variety of options. McAllister Energy provides the following services:
Keep your family at ease through the harsh cold Jersey winters with a reliable furnace or boiler equipment from McAllister Energy. Contact us to schedule heating system installation, replacement, or repair!
Mantua Heat Pump Services
It's often said that two is better than one, but that's not always the case. For instance, the choice to set up a heat pump makes it possible for you to have an effective heating and cooling equipment for the entire year. No matter what services you need, including but not limited to making a switch to another HVAC system or replacing a broken equipment, McAllister Energy is here to help you with the following services:
McAllister Energy has been offering heating and cooling services to Mantua households since 1876. Don't be reluctant to give us a call at (856) 665-4545 to schedule your heat pump installation, maintenance, or repair.
Commercial HVAC Services Mantua
Even business properties and business establishments yearn for efficient heating and cooling. You can not afford to have an ineffective HVAC system because the displeasure it results to might induce low productivity and sales. Commercial heating and cooling systems are routinely subjected to intense working stress and frequently lose efficiency with time. The good news for you is that we are a reliable service provider which offers an extensive array of products and services created primarily for the local commercial market. One of our qualified comfort care specialists can help create a comprehensive installation, repair, and maintenance program customized precisely for your Mantua business.
You don't really need to risk the comfort level of your business or office premises, so work with McAllister Energy right away. Contact us at (856) 665-4545 to set up commercial HVAC services!
Mantua Indoor Air Quality
Lots of people are surprised to discover that indoor air can be often more contaminated than outdoor air. The explanation is that most facilities in the modern day, including residences, are made to be sealed off from the outside, the reason of which is to keep warmed as well as cooled air from leaking. The problem with the idea of trapping air inside is that even if it saves energy, it also breeds contaminants that will influence the health and wellness of everyone living inside. Try to keep the air quality in your home as clean as possible with indoor air quality solutions in South Jersey.
When you need indoor air quality purification services in Mantua, there's only one name you need to know, McAllister Energy.
Mantua Points of Interest
Mantua Township is located in the middle of Gloucester County, New Jersey. Mantua has a total area of 15.919 square miles and is situated on an elevated bluff that overlooks Mantua Creek. It derives its name from Mantua Creek, which is from the Indian word Manta that means frog as an annual frog chorus occurred in the area. The township was created on February 23, 1853. It is home to many parks such as the Chestnut Branch Park, which is a 109-acre park that is comprised of athletic fields and facilities, paved paths, wetlands, a pavilion, picnic tables, and a butterfly garden. There is also the Ceres Park and McCarson Park where residents can enjoy various outdoor activities. Residents can also dine in eateries like Picasso's Pizzeria & Restaurant, Mi Familia, Rocco's Pizza, and Sal's Pizza. A few of the prominent people associated with Mantua include NFL fullback Ryan D'Imperio, figure skater Tara Lipinski, and pop punk band Major League.
Mantua is located at 39.76201 Latitude and -75.17309 Longitude, within Gloucester County, New Jersey. It has a population of 15,099 with a $82,673 median income and with 5,756 households.
Local areas of interest
McAllister Energy
7116 Park Ave
Pennsauken, NJ 08109
(856) 665-4545
Choose McAllister for HVAC Services in Mantua, NJ
At McAllister Energy, we care about our customers and we're passionate about our work. We've been in the indoor comfort business since 1876. That's almost 150 years of HVAC experience. And yet, because the HVAC industry is constantly evolving, we continue to learn new things every day. When we go to work for you, we apply everything we know to solve the problem quickly, efficiently, and effectively. We've built our business from the ground up, and our commitment to your peace of mind grows stronger every day.
Whatever your heating and cooling needs in Mantua, McAllister Energy can help. Contact our expert HVAC technicians for assistance.
Local Reviews
for Mantua, NJ
---