Heating & Air Conditioning Services in Hainesport, New Jersey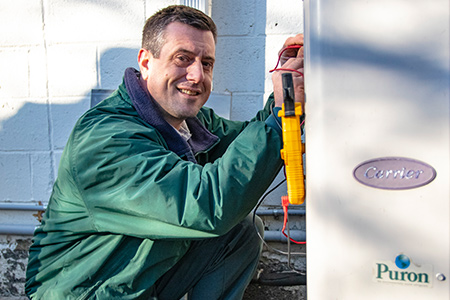 When you need heating or air conditioning services in Hainesport, there's only one choice to make, McAllister Energy. With over 100 years in the air conditioning and heating business, the HVAC experts at McAllister Energy skillfully repair and provide services for air conditioning, heating, and ventilation equipment.
Our services range from basic AC repairs and maintenance to extensive furnace troubleshooting and replacements. Our primary concern is you and your family's comfort in your Hainesport home or business. Our skilled technicians will assess your Hainesport property's HVAC system and install, replace, or perform the necessary repairs to get your property comfortable again.
We offer the following Hainesport HVAC services:
Hainesport Air Conditioning Repair Service

Hainesport Furnace Repair Service

Top Rated Hainesport HVAC Contractors

24 Hr Emergency Air Conditioning Repairs

24 Hr Emergency Furance Repairs

Furnace & Air Conditioning Installation Near Me In Hainesport

Local HVAC Installers Near Me In Hainesport
Learn More About Our HVAC Services Call Now: (856) 665-4545
At McAllister, we want to be the first (and last) call you need to make when hiring a heating and air conditioning contractor in Hainesport, New Jersey. For peace of mind knowing your Hainesport HVAC needs are always covered, you can count on us. We've been serving your Hainesport, NJ neighbors since 1876! Contact us today for all of your HVAC needs. Read more.
Hainesport Air Conditioning Services
Soon after a hectic day at the Jersey shore and fun-filled night at the boardwalk, your family anticipates returning home to a cool home where they can relax after the day's adventures. Your problem though is that when you get to your Hainesport home, you realize that the temperature inside and out is scorching hot, and you feel like there is no way to find comfort in it. So as to keep you and your family at ease, even when the temperature levels are reaching record highs, we deliver the following air conditioner services in Hainesport, New Jersey:
When it comes to something related to cooling systems, we at McAllister Energy serve every residential needs in Hainesport, so select us if you want repair, installation, and maintenance services. You may choose to correspond with us on the web or you can simply dial (856) 665-4545 for your appointment.
Hainesport Heating Services
The experts at McAllister Energy have been servicing homes in the South Jersey region, including Hainesport since 1876, and we are pleased to profess that we are the best in the business when it concerns the installation, repair, and upkeep of boilers and furnaces. Effective heating for your Hainesport home implies having to pick from a wide range of choices. McAllister Energy delivers the following solutions:
Your job is to keep everybody in the household comfy and safe all through the severe winter season in Jersey, and to work on that, you must enlist McAllister Energy for the maintenance of your boiler or furnace. Be sure to give us a call for heating system installation, maintenance, replacement, and repair.
Hainesport Heat Pump Services
It's commonly said that two is better than one, but that's not always the case. For instance, setting up a heat pump at home gives you the opportunity to enjoy efficient heating and cooling all year. Whether you're looking to make the switch from another type of HVAC system to a heat pump, or you want to replace or repair existing equipment, McAllister Energy's service technicians can provide high-quality services, consisting of:
McAllister Energy has been providing heating and cooling services to Hainesport homeowners since 1876. Call us at (856) 665-4545 to schedule a service appointment for heat pump installation, repair, and maintenance.
Commercial HVAC Services Hainesport
Even business properties and business facilities yearn for efficient heating and cooling. Without having an effective HVAC system, your workers might be less efficient or sales could drop due to your customers' distress. Commercial heating and cooling systems are consistently dependent intense operational stress and commonly lose efficiency with time. We offer a wide array of products and services designed specifically for the local commercial market. What we carry out is we will send you an experienced and trained consultant to help in the development of a comprehensive installation, maintenance, and repair created for your Hainesport business or commercial space.
There is no reason for you to put your establishment at a compromise by giving up comfort; all you must do is get in touch with McAllister Energy. Speak with us today at (856) 665-4545 for a discussion on our commercial HVAC services.
Hainesport Indoor Air Quality
Lots of people do not recognize that indoor air is really more contaminated when compared to the air outside. That's due to the fact that most properties today are closed tight to always keep heated and cooled air from leaking out. The problem with the principle of trapping air inside is that even if it saves energy, it also breeds contaminants that will influence the health of everybody living inside. Always keep the air quality in your home as clean as possible with indoor air quality solutions in South Jersey.
When you need indoor air quality purification services in Hainesport, there's only one name you need to know, McAllister Energy.
Hainesport Points of Interest
Hainesport Township, in Burlington County, New Jersey is home to about 6,000 residents. It is one of the many townships in the county with a significant history associated with the American Revolutionary War. In fact, the township was the site of a battle in 1778 wherein the American rebels opened fire against the Hessian soldiers after getting halted while dismantling a bridge in Rancocas. Before it was incorporated in 1924, the township was once part of Lumberton Township. Its name is in honor of Barclay Haines. He bought land in the area and built a wharf near his house on the Rancocas Creek. Today, the township is primarily a residential community.
Hainesport is located at 39.97796 Latitude and -74.83633 Longitude, within Burlington County, New Jersey. It has a population of 6,075 with a $90,331 median income and with 2,306 households.
Local areas of interest
McAllister Energy
7116 Park Ave
Pennsauken, NJ 08109
(856) 665-4545
Choose McAllister for HVAC Services in Hainesport, NJ
At McAllister Energy, we care about our customers and we're passionate about our work. We've been in the indoor comfort business since 1876. That's almost 150 years of HVAC experience. And yet, because the HVAC industry is constantly evolving, we continue to learn new things every day. When we go to work for you, we apply everything we know to solve the problem quickly, efficiently, and effectively. We've built our business from the ground up, and our commitment to your peace of mind grows stronger every day.
Whatever your heating and cooling needs in Hainesport, McAllister Energy can help. Contact our expert HVAC technicians for assistance.
Local Reviews
for Hainesport, NJ
---
Dave L.
Service call to replace a noisy indoor blower motor on a 2014 model year Carrier gas furnace model 58STA110, series 140.
Near

Parry Dr,

Hainesport

,

NJ

08036
Andrew P.
Performed Annual Tune Up on High Efficiency Gas-Fired Warm Air Furnace.
Near

Barclay Rd,

Hainesport

,

NJ

08036
Andrew P.
Performed Annual Tune Up on High Efficiency Gas-Fired Warm Air Furnace.
Near

Barclay Rd,

Hainesport

,

NJ

08036
Andrew P.
Performed Annual Tune Up on High Efficiency Gas-Fired Warm Air Furnace.
Near

Barclay Rd,

Hainesport

,

NJ

08036
Andrew P.
Performed Annual Tune Up on High Efficiency Gas-Fired Warm Air Furnace.
Near

Barclay Rd,

Hainesport

,

NJ

08036