Heating & Air Conditioning Services in Haddon Heights, New Jersey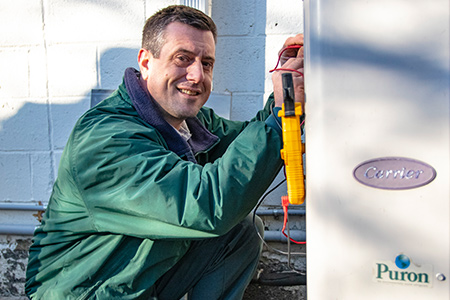 When you need heating or air conditioning services in Haddon Heights, there's only one choice to make, McAllister Energy. With over 100 years in the air conditioning and heating business, the HVAC experts at McAllister Energy skillfully repair and provide services for air conditioning, heating, and ventilation equipment.
Our services range from basic AC repairs and maintenance to extensive furnace troubleshooting and replacements. Our primary concern is you and your family's comfort in your Haddon Heights home or business. Our skilled technicians will assess your Haddon Heights property's HVAC system and install, replace, or perform the necessary repairs to get your property comfortable again.
We offer the following Haddon Heights HVAC services:
Haddon Heights Air Conditioning Repair Service

Haddon Heights Furnace Repair Service

Top Rated Haddon Heights HVAC Contractors

24 Hr Emergency Air Conditioning Repairs

24 Hr Emergency Furance Repairs

Furnace & Air Conditioning Installation Near Me In Haddon Heights

Local HVAC Installers Near Me In Haddon Heights
Learn More About Our HVAC Services Call Now: (856) 665-4545
At McAllister, we want to be the first (and last) call you need to make when hiring a heating and air conditioning contractor in Haddon Heights, New Jersey. For peace of mind knowing your Haddon Heights HVAC needs are always covered, you can count on us. We've been serving your Haddon Heights, NJ neighbors since 1876! Contact us today for all of your HVAC needs. Read more.
Haddon Heights Air Conditioning Services
You and the whole family spent the whole day having a good time at the Jersey shore and spending the night at the boardwalk; but at the day's end, you want nothing but a good night sleep and rest in the house. However, if the temperature level inside your Haddon Heights home is as hot as the temperature outside, it could be too uncomfortable to rest. But don't worry since we are here to give you the finest cooling services through our air conditioner services for the residents of Haddon Heights, New Jersey:
Whether you require a new system installed in Haddon Heights, or an old system maintained or repaired, choose McAllister Energy. Check out our website or give us a call at (856) 665-4545 for your appointment.
Haddon Heights Heating Services
McAllister Energy has been setting up and repairing boilers and furnaces all throughout South Jersey, including Haddon Heights, since 1876, which is why you can trust our heating service technicians will get the job done promptly and effectively. You deserve to heat your Haddon Heights home with maximum comfort, which is why we give a number of choices for you to choose. We currently deliver the following:
Your role is to keep everyone in the household comfortable and safe all through the harsh winter season in Jersey, and to work on that, you must tap McAllister Energy for the maintenance of your boiler or furnace. Don't think twice about phoning us for all your heating equipment maintenance, installation, and repair needs.
Haddon Heights Heat Pump Services
It's typically said that two is better than one, but that's not always the case. For example, installing a heat pump at home gives you the opportunity to take pleasure in efficient heating and cooling all year. Whether you're looking to make the switch from another type of HVAC system to a heat pump, or you need to replace or repair existing equipment, McAllister Energy's technicians can offer high-quality services, consisting of:
McAllister Energy started in 1876, and ever since, we've turned into the leading heating and cooling company for residents in the Haddon Heights area. Get in touch with us today at (856) 665-4545 to schedule your heat pump installation, maintenance, or repair.
Commercial HVAC Services Haddon Heights
Even commercial properties and business facilities yearn for efficient heating and cooling. Without an effective HVAC system, your workers may be less efficient or sales could decrease due to your customers' discomfort. Commercial heating and cooling systems are consistently dependent intense working stress and typically reduce effectiveness in time. Fortunately, we provide you a bunch of products and services that will let you improve your commercial space into a convenient living space for staff members and clients alike. We will give you a consultant whose know-how is comfort care, the purpose of which is to plan out a detailed installation, maintenance, and repair programs for your Haddon Heights building or commercial space.
There is no reason for you to put your small business at a compromise by sacrificing comfort; all you must do is contact McAllister Energy. Speak with us today at (856) 665-4545 to set up commercial HVAC services!
Haddon Heights Indoor Air Quality
It is a total revelation for a number of individuals to learn that indoor air is a lot dirtier and more polluted than outdoor air. The explanation is that most properties in the modern day, including homes, are made to be sealed off from the outside, the purpose of which is to keep heated as well as cooled air from leaking. The problem with the concept of trapping air inside is that even if it conserves energy, it likewise breeds pollutants that will impact the health of everybody living inside. It is your obligation as a homeowner to ensure that the air your inhale inside is clean, and the most ideal way to achieve that is by tapping the professional services of professional indoor air quality services in South Jersey.
When you need indoor air quality purification services in Haddon Heights, there's only one name you need to know, McAllister Energy.
Haddon Heights Points of Interest
The borough of Haddon Heights in Camden County, New Jersey was once listed as one of the 100 best places to live in the state by the New Jersey Monthly magazine. Although it only ranked 98th, the fact that it made the list meant that the community is an ideal residential area. Haddon Heights was incorporated as a borough on March 2, 1904, with its land obtained from the dissolved Centre Township as well as Haddon Township. Like several places in Camden County, Haddon Heights is classified as a dry town, which means it is prohibited to sell alcohol. The town's name honors Elizabeth Haddon, one of the earlier settlers in the area. Aside from the distinction given by the New Jersey Monthly magazine, the borough was also listed in the Classic Towns of Greater Philadelphia, courtesy of the Delaware Valley Regional Planning Commission.
Haddon Heights is located at 39.87734 Latitude and -75.06462 Longitude, within Camden County, New Jersey. It has a population of 7,544 with a $88,162 median income and with 2,870 households.
Local areas of interest
McAllister Energy
7116 Park Ave
Pennsauken, NJ 08109
(856) 665-4545
Choose McAllister for HVAC Services in Haddon Heights, NJ
At McAllister Energy, we care about our customers and we're passionate about our work. We've been in the indoor comfort business since 1876. That's almost 150 years of HVAC experience. And yet, because the HVAC industry is constantly evolving, we continue to learn new things every day. When we go to work for you, we apply everything we know to solve the problem quickly, efficiently, and effectively. We've built our business from the ground up, and our commitment to your peace of mind grows stronger every day.
Whatever your heating and cooling needs in Haddon Heights, McAllister Energy can help. Contact our expert HVAC technicians for assistance.
Local Reviews
for Haddon Heights, NJ
McAllister Energy
Rated
5.0
out of 5 stars based on
2
customer reviews
Powered by Nearby Now
---
Great Service
Boehm

-

Haddon Heights

,

NJ

08035



Review of
McAllister Energy
David answered all my questions as we are new to oil heat. He was very patient and thorough.
---
Annual cleaning
Patrick

-

Haddon Heights

,

NJ

08035



Review of
McAllister Energy
Efficient and very polite.
---
David C.
Boiler cleaning
Near

3rd Ave,

Haddon Heights

,

NJ

08035
Dave L.
Annual precision tune up and inspection on a Peerless oil boiler.
Near

10th Ave,

Haddon Heights

,

NJ

08035
Andrew P.
Checked operation of 2nd/3rd Floor attic unit.
Near

8th Ave,

Haddon Heights

,

NJ

08035
Andrew P.
Checked operation of 2nd/3rd Floor attic unit.
Near

8th Ave,

Haddon Heights

,

NJ

08035
Andrew P.
Checked operation of 2nd/3rd Floor attic unit.
Near

8th Ave,

Haddon Heights

,

NJ

08035
Andrew P.
Checked operation of 2nd/3rd Floor attic unit.
Near

8th Ave,

Haddon Heights

,

NJ

08035