Heating & Air Conditioning Services in Franklinville, New Jersey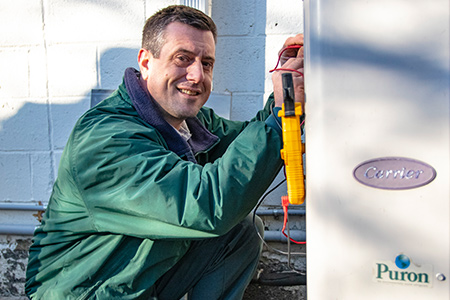 When you need heating or air conditioning services in Franklinville, there's only one choice to make, McAllister Energy. With over 100 years in the air conditioning and heating business, the HVAC experts at McAllister Energy skillfully repair and provide services for air conditioning, heating, and ventilation equipment.
Our services range from basic AC repairs and maintenance to extensive furnace troubleshooting and replacements. Our primary concern is you and your family's comfort in your Franklinville home or business. Our skilled technicians will assess your Franklinville property's HVAC system and install, replace, or perform the necessary repairs to get your property comfortable again.
We offer the following Franklinville HVAC services:
Franklinville Air Conditioning Repair Service

Franklinville Furnace Repair Service

Top Rated Franklinville HVAC Contractors

24 Hr Emergency Air Conditioning Repairs

24 Hr Emergency Furance Repairs

Furnace & Air Conditioning Installation Near Me In Franklinville

Local HVAC Installers Near Me In Franklinville
Learn More About Our HVAC Services Call Now: (856) 665-4545
At McAllister, we want to be the first (and last) call you need to make when hiring a heating and air conditioning contractor in Franklinville, New Jersey. For peace of mind knowing your Franklinville HVAC needs are always covered, you can count on us. We've been serving your Franklinville, NJ neighbors since 1876! Contact us today for all of your HVAC needs. Read more.
Franklinville Air Conditioning Services
You and the entire family spent the whole day having a good time at the Jersey shore and spending the evening at the boardwalk; but at the day's end, you wish nothing but a good night sleep and rest in your home. Your problem though is that when you get to your Franklinville home, you become aware that the temperature inside and out is scorching hot, and you feel like there is no way to find comfort in it. But don't despair since we are here to give you the best cooling options through our air conditioner services for the residents of Franklinville, New Jersey:
When it comes to something related to cooling systems, we at McAllister Energy serve every residential needs in Franklinville, so choose us if you require repair, installation, and maintenance solutions. You may select to correspond with us on the web or you can simply dial (856) 665-4545 to schedule service.
Franklinville Heating Services
McAllister Energy has been installing and repairing boilers and furnaces throughout South Jersey, including Franklinville, since 1876, which is why you can depend on our heating service technicians will get the job done quickly and effectively. When it comes to heating your Franklinville, you have a selection of choices. We currently deliver the following:
If you wish to ensure the comfort and welfare of your family in the middle of the winter months, you must work with McAllister Energy for the servicing of your boiler or furnace. Call us to schedule heating system installation, replacement, or repair!
Franklinville Heat Pump Services
They say that two is often better than one, yet there are exceptions to that rule. By installing a heat pump, your home will experience efficient heating and cooling year round. Whether you're seeking to make the switch from another kind of HVAC system to a heat pump, or you want to replace or repair existing equipment, McAllister Energy's specialists can offer high-quality services, including:
McAllister Energy has been providing heating and cooling solutions to Franklinville property owners since 1876. Contact us right now at (856) 665-4545 to schedule your heat pump installation, maintenance, or repair.
Commercial HVAC Services Franklinville
Even business properties and business establishments yearn for efficient heating and cooling. You can not afford to have an ineffective HVAC system because the discomfort it leads to might induce low productivity and sales. In the commercial setting, heating and cooling systems may quickly turn ineffective because of intense operational stress. We offer a wide variety of products and services developed primarily for the local commercial market. What we carry out is we will send you an experienced and trained expert to help in the development of a detailed installation, maintenance, and repair designed for your Franklinville business or commercial space.
Why risk the convenience of your small business when McAllister Energy is a call away? Contact us at (856) 665-4545 to reserve a commercial HVAC services consultation today.
Franklinville Indoor Air Quality
Lots of people are stunned to learn that indoor air can be many times more polluted than outdoor air. There's a factual basis for this observation since most homes and buildings these days are intended to be sealed off from the outdoors to ensure that heated and cooled air won't escape. The problem with the principle of holding air inside is that even if it uses less energy, it also breeds pollutants that will have an effect on the health of everyone living inside. Always keep the air quality in your home as clean as possible with indoor air quality services in South Jersey.
When you need indoor air quality purification services in Franklinville, there's only one name you need to know, McAllister Energy.
Franklinville Points of Interest
Previously called Little Ease, Franklinville is one of the unincorporated communities within Franklin Township, Gloucester County, New Jersey. It serves as the town center for the township, mixing historic buildings with modern stores and the like. Residents in the area can dine in eateries like Nick's Pizzeria & Steak House, Franklinville Inn, Cap'n Cat Clam Bar, and China Café. Local businesses throughout the community include Tool District Industrial Supply, Baitnhook Sportsman Supply, Triple Oaks Nursery & Herb Garden, and Wally's Autoland Inc. Local points of interest include the Recreation Complex, the Sk8 47 Skating and Fun Center, Franklin TWP Community Center, and the Historic Train Station. Franklinville also has a local 13-acre winery called Coda Rossa Winery.
Franklinville is located at 39.6177969 Latitude and -75.080747 Longitude, within Gloucester County, New Jersey. It has a population of 10,524 with a $83,596 median income and with 3,860 households.
Local areas of interest
McAllister Energy
7116 Park Ave
Pennsauken, NJ 08109
(856) 665-4545
Choose McAllister for HVAC Services in Franklinville, NJ
At McAllister Energy, we care about our customers and we're passionate about our work. We've been in the indoor comfort business since 1876. That's almost 150 years of HVAC experience. And yet, because the HVAC industry is constantly evolving, we continue to learn new things every day. When we go to work for you, we apply everything we know to solve the problem quickly, efficiently, and effectively. We've built our business from the ground up, and our commitment to your peace of mind grows stronger every day.
Whatever your heating and cooling needs in Franklinville, McAllister Energy can help. Contact our expert HVAC technicians for assistance.
Local Reviews
for Franklinville, NJ
---