Carrier Infinity Vs Performance Air Conditioner Review & Buying Guide
Summer has arrived. For most people, that means camping trips, vacations, and other fun activities. However, with the season comes the inevitable summer heat. Having an air conditioning unit that can keep you comfortable is paramount to survive the extreme outdoor temperatures.
Anyone who has ever dealt with a broken A/C knows the discomfort of the sweltering heat and sweaty nights. Without a good air conditioning system, summer is a miserable time.
Therefore, having a functional air conditioning unit is an absolute must. When your old unit is underperforming, it may be time for a replacement. But you're no HVAC specialist and you have no idea which air conditioner is right for you.
Luckily, here at McAllister Energy, we specialize in air conditioning systems and can find the right one for you. One of the most common brands that we get asked about is Carrier air conditioning units. Most people find it hard to decide between two of Carrier's most popular lines of air conditioning units.
Learn More About Carrier Air Conditioning
Top Air Conditioning Systems: Carrier Infinity Vs Performance Review
In this article, we discuss some of the primary differences between Carrier's Infinity air conditioning model and its line of Performance air conditioners.
What Are The Differences Between Carrier Infinity And Performance Brand AC Units?
Carrier manufacturers some of the top of the line air conditioning units. Their Infinity and Performance units are two of the cooling systems we get asked about a lot.
Both units offer superior quality. But, like with any purchase, different people will have different needs. Because of that, we wanted to help you make the right choice in picking your next air conditioning unit.
The average home will have the same cooling system for roughly 15 or more years. When their unit reaches the point of replacement, many simply go with the more modern version of their old unit. However, it's important that you get an air conditioner that will meet your needs and keep you and your family cool and comfortable.
McAllister Energy highly recommends Carrier HVAC systems. However, many homeowners are unaware of which of these two Carrier models will meet their cooling needs the best. This article will break down both units in a side-by-side comparison.
Every home is different, and every situation unique. We want to help you get a better idea of what to expect from these two AC units. That way you will be confident in your purchase for years to come.
What To Look For In A Cooling System For Your Home
McAllister Energy has over 100 years of experience in the HVAC industry. For years, we have answered customer's questions about A/C units. We know what factors take priority when replacing your air conditioning system. Throughout the years, many people prioritize three considerations when choosing an AC: cost, efficiency, and the noise it produces.
You don't have to be an HVAC expert to understand that you want an affordable HVAC unit. In fact, you want a cooling system that is efficient so that your monthly utility bills don't break the bank account. You also don't want an air conditioner that will have you screaming over the sound it makes.
Throughout this article, we will focus on those three factors. We will show you how the Carrier Infinity and Performance models compare to one another. At the end of the article, we will give you our recommendation. This recommendation is one that is based on our years of experience in the business.
The final decision will be up to you, based on your needs. With that said, let's get to it and jump right in.
Carrier Infinity And Performance: Air Conditioner Prices
As we said before these two Carrier AC units are of different qualities. So there are bound to be some price differences between the two. The Infinity model is a high-end cooling system while the Performance model is a mid-tier unit.
Because of this, the Infinity model will run you slightly more money upfront. On average, the price for the Infinity model will run you for slightly more money than the Performance model. That's not including installation and ductwork.
Due to the Infinity model's quality, it will also cost you more over the lifetime of the unit. No matter what AC unit you end up purchasing, there will be repair and maintenance costs. Buying a higher-end model won't just cost you more money up front. It will also cost you more to handle and repair any problems that might arise due to its additional/sophisticated features.
Now, you might already be thinking that a higher price means that the Infinity model AC isn't for you. Don't dismiss it just yet. The upfront cost is only a small fraction of the overall cost of any unit. When thinking about the true cost of an air conditioning unit there is another very important factor to consider.
Learn More About Carrier AC Equipment
The Efficiency Of Brand New Air Conditioning Systems
If you've ever run an AC day and night during the summer, then you already know exactly how expensive it can get. The real cost of an AC unit doesn't show up until you know how efficiently it can cool your home during the summer.
An inefficient system takes more energy to cool your home. That means higher energy bills month after month. The efficiency of your unit will determine how much it will cost you throughout its lifespan. Spending a few hundred dollars more upfront can save you thousands of dollars in the long run.
This situation brings up an important question. What does efficient mean when it comes to your air conditioner?
Efficiency all comes down to the seasonal energy efficiency ratio (SEER) rating. The SEER rating is the ratio of cooling to the amount of energy consumed by your air conditioning unit. To make things even easier, the SEER rating is how much cooling your system is able to produce for the amount of energy needed to run the unit. When it comes to SEER ratings, the higher the rating, the more efficient the unit. Having a more efficient unit means you will save more money on energy costs each month. For air conditioners, the minimum SEER rating is 13. Most AC units on the market today have a SEER rating that falls somewhere between 13 and 21.
So that begs the question, how do these two Carrier units stack up? To compare the two, we will go based off of the average size AC used in U.S. homes, which is a 3-ton unit.
Carrier Infinity Model: SEER Rating = 21
Carrier Performance Model: SEER Rating = 17
Carrier's Performance A/C is roughly 20% less efficient than the Infinity model.
The Infinity model will likely cost less throughout the life of your unit, giving you the best value. Sure, you can get the Performance model cheaper upfront, but your utility bills will be higher.
Either way, both of these models will likely be more efficient than the one you want to replace. Older systems tend to have a lower SEER rating. They also lose efficiency as they get older and start to malfunction. Either model will likely be cheaper to run than your current air conditioner. Regardless, Carrier air conditioners outlast and outperform other models of the market today.
Now that we have all the cost factors out of the way, we only have one more factor to discuss.
Operating Noise Of The Carrier Infinity And Performance Models
The noise made by your AC is something that you will have to live with every single day. That makes it a very big deal. If money weren't an issue wouldn't you want the most silent air conditioner you could find?
If you have ever had to deal with a loud air conditioner, you know how obnoxious it is. It's so irritating that for a lot of people when the noise gets to be too much, that's the cue to start looking for a new unit.
If you have to yell over your unit, even the cheapest, most efficient model will give you buyer's remorse.
Luckily, both the Infinity and Performance models are relatively quiet air conditioners.
Carrier Infinity Model Noise Level: Around 65 decibels
Carrier Performance Model Noise Level: Around 72 decibels
The Infinity model A/C is around the same volume as a normal conversation. The Performance model is somewhere between a hair dryer and a dishwasher.
Yes, you will notice the sound both models make. That's inevitable with any AC, but they won't be loud enough to make you want to pull your hair out.
Chances are, whichever one you choose, it will be quieter than the old unit you have now.
Schedule A Free, In-Home Estimate
Our Final Verdict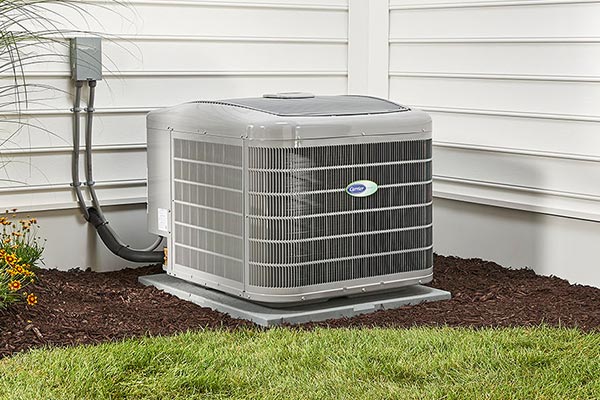 So, which Carrier model air conditioner is our favorite?
The Carrier Infinity and the Carrier Performance air conditioner units are both excellent. Either one of them would make a fine AC in your home. We truly believe that you would be happy with both. But, we promised that we would give you our recommendation, and that's exactly what we're going to do.
If we had to choose between the two, then we would lean slightly towards the Carrier Infinity model.
This high-end air conditioning unit is simply a better buy. It will offer a quieter, more efficient cooling system that will bring comfort to your home. It might cost more upfront and for repairs, but we still recommend it over the Performance model.
That is our recommendation. However, remember your choice will come down to your personal needs and preferences. If you plan on living in your current home for many years, spend the extra money and get the Carrier Infinity.
The Performance model is better if you aren't paying the energy bills for the long-term. Rental properties where the tenants pay the energy bill or a house you plan to sell quickly, for instance.
We hope this article will make your decision easier and take any stress out of buying a new cooling unit. After all, you will be living with it in your home for over a decade or so. You and your family deserve to have an A/C that provides comfort and efficiency for years to come.
Call McAllister Energy For Your HVAC Replacement
McAllister Energy is a name that you can trust for all of your heating and cooling needs. Whether you are a homeowner or a business owner, you can call McAllister Energy when you need a reliable and excellent HVAC services.
Our team can provide you with heating and cooling installations, repairs, and maintenance services with impressive results. Whatever your HVAC requirements are, we have you covered!
Give us a call to learn more about our HVAC services. We can schedule a free in-home consultation that works best with your schedule. We are eager to listen to your concerns and provide affordable options that you can choose from. So don't delay, call McAllister Energy today!
You can click here to contact us now or call us at (856) 665-4545 to find out more!