Quality Boiler Services Since 1876
The South Jersey winters can be brutally cold. When the weather outside is below freezing, you need a heating system you and your family can rely on.
Have you been considering installing a boiler in your South Jersey home? Families in the area have relied on McAllister Energy since 1876 for the best boiler installation and repair services!
Our experienced technicians will get the job done fast and efficiently so you never have to worry about your heating system ever again!
South Jersey Boiler Service
Make sure your home is well heated for this winter! It'll be here sooner than you think!
Boiler Installation Services
If you need to replace your current heating system or want to install a boiler in your new home, the company you choose to install it is just as important. Our experts have years of experience installing boilers in homes just like yours. With McAllister Energy, you'll know your system is operating at peak performance all year round!
We combine top brands like Weil-McLain and Bosch Greenstar and Buderus with the very best boiler installation services! These top brands are built to last and are a very solid investment that will keep your home warm for years to come!
Boiler Replacement in the South Jersey Area
No matter what the situation, our heating experts can help you replace your boiler fast so you don't have to worry about being without heat for very long! You need to take care of your family and we can help you with that! A modern boiler will provide you with an efficiency that your current system can't match!
We make sure that the products we install match the quality of our service. That's why we use products from industry leaders like Weil-McLain, Buderus and Bosch Greenstar.
Boiler Maintenance in South Jersey
You should only hire a trained professional to perform boiler maintenance on your system. This will ensure your system's warranty is protected and that your system is operating safely. You should perform the following weekly checks on your system:
Listen for any unusual noises or vibrations.
Ensure the area surrounding the unit is free of obstructions and debris.
Keep a close eye on the vent termination, ensuring it is free of debris, ice, or snow.
Inspect the floor near and around the boiler, watching for water leakage.
If your boiler has a display panel, watch for error, or service codes, and call McAllister Energy for service.
Call our boiler experts at 856-665-4545 to learn more and to schedule routine maintenance.
Boiler Repairs
Boilers are very complex with a lot of moving parts. This makes it difficult for someone who isn't trained in these systems to properly fix it. You need a contractor who is an expert in boiler repair and with McAllister Energy, you're getting the best of the best. Our process starts with a comprehensive diagnosis of your system's main components such as radiators, burners, controls, and convectors. We'll provide you with a solution that'll ensure your system is back up and running. If the problem requires more than just replacing a part or two we can help you with that too.  
There are a lot of things that can go wrong with your boiler system. The experts here at McAllister Energy have put together the most common signs that you need boiler repair:
Inadequate heating
Excessively high or low water pressure
Pipe leakage
Unusual pipe noises
Why Choose A Boiler Heating System for Your Home?
Year after year, boiler technology increases and so does its efficiency. With so many different heating systems out there it may be hard to choose! When it comes down to it, it's all about what's best for your needs. If you choose a boiler for your home, you'll be benefiting from:
Advances in efficiency. Up until recently, boilers couldn't compete with furnaces as far as efficiency. But with recent developments, modern boilers' AFUE rating can match the high-efficiency furnaces that are so popular.
Powerful home heating. A boiler is by far the most powerful source of heat you can install in your home. You'll never have to worry about cold spots again.
Air quality advantages. Boilers are not a forced air style system and thus do not push pollutants throughout your home. This will make your home's air cleaner and easier to breathe!
Quiet system operation. Boilers are pretty much silent when operating. This will ensure you're never bothered by loud noises by your heater!
Reduced carbon footprint. Boilers burn safely and efficiently which will help you bring an environmentally-friendly heating option into your home!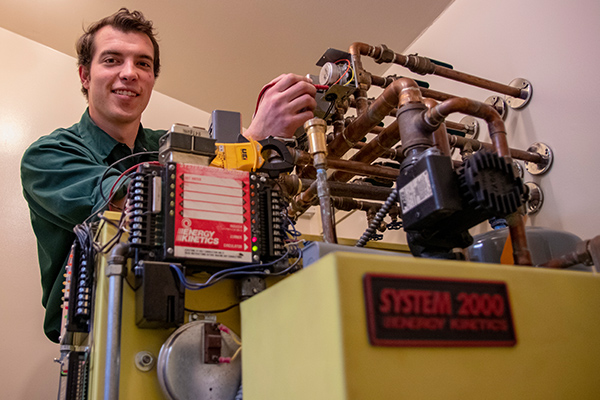 Still not sure if a boiler system is the right choice for your home? Our heating experts will provide you with a solution that's perfect for your needs! The following is a little bit of information we put together on why the boilers we install are so far ahead of the competition: 
Weil-McLain Boilers
Weil-McLain is the largest manufacturer of cast-iron boilers in the United States. Their superior design and industry-leading efficiency ratings show that they are constantly seeking perfection. The AFUE ratings on their systems range between 80-95%. There's a Weil-McLain boiler for all types of budgets!
Bosch Greenstar and Buderus Boilers
Bosch Greenstar and Buderus really focus on making their boiler systems green and energy efficient. Their product line is extensive and they also offer many accessories that will ensure your system can fit your needs!
South Jersey Oil Delivery
During the bitter winters here in New Jersey, you rely on your boiler system for dependable warmth in your home. Without regular heating oil delivery, you may find yourself out of fuel when you need it most. We make oil delivery easy and offer regularly scheduled delivery as well as an as-needed plan.
Contact our friendly customer service team and we'll put you on our schedule right away!
Need Fast Service, Now?
Call us now for emergency fuel delivery or HVAC service.