Boiler Replacement and Installation Services
All of us here in South Jersey know how brutal the winters can be. That's why you need a powerful heat source that you know you can rely on.
Boilers are one of the oldest heating methods for heating your home but are still one of the most effective ways to do so.
If your boiler isn't performing at a level that suits your needs, contact the boiler experts at McAllister Energy today!
South Jersey Boiler Replacement
McAllister Energy is committed to providing the best boiler replacement services in all of South Jersey. Whether you have a residential or commercial property, choose McAllister Energy for your next boiler job!
Benefits of Boiler Replacement
Having a new boiler installed can bring many perks you may not have considered. Many of the savings can offset the initial high costs of installing a new boiler. Some of the benefits include:
Higher home comfort. You'll instantly notice the difference in how well your heating system is working.
Space-saving advantages. Modern boilers are very space-efficient and free up space in your home!
Lower energy or fuel costs. New systems can have AFUE ratings of 90-95 which competes with the best furnaces on the market!
Extended boiler lifespans. Modern boilers can last up to 20-30 years! Sometimes even longer!
Reliability. A new boiler is unlikely to need repairs in the near future, especially if you keep up with regular maintenance.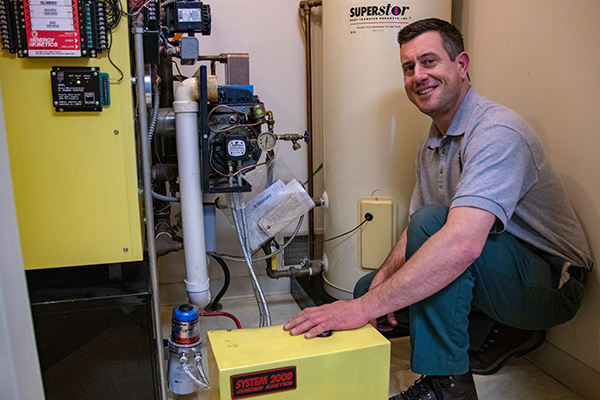 South Jersey Boiler Replacement
Whether you knew you your boiler was about to give out, or there's an unexpected emergency, the contractor you choose is very important. With McAllister Energy, our team has decades of experience in all types of situations so we're equipped to handle anything you throw at us! We install quality brands such as:
Weil-McLain
Buderus
Bosch Greenstar
We've provided quality boiler service to residents of Pennsauken since 1876 and have built a reputation for our service. Our heating experts will treat every project like their working on their own home so you know the job will get right the first time!
If you want to discuss your options when it comes to heating, contact the boiler experts at McAllister Energy today! Call us or contact us online today!
Signs It's Time to Replace Your South Jersey Boiler
Knowing whether replacement or a simple repair is right for you can be difficult. With McAllister Energy, you'll always have an expert giving you advice on what'll be best for your home! We recommend replacement if:
Efficiency has dropped. If your heating costs are increasing, it's one of the biggest indicators that you need a replacement in the near future.
The boiler is too old. After about 15 years, boilers begin to wear out and need more repairs. If your boiler isn't keeping up with your needs, contact McAllister Energy.
You need repairs too often. Repair costs add up quick. If you're noticing your system needing repairs more and more frequently.
The boiler no longer heats effectively. Boilers are one of the most effective systems at evenly heating your home. If you're noticing cold spots within your home, a replacement may be the way to go.
If you have been considering replacing your boiler system in your Pennsauken home, you need an HVAC contractor that will be there for you no matter what. When you choose McAllister Energy you're getting the absolute best service and products that will keep you happy for years to come! Since 1876 we've performed boiler services on residents of Pennsauken and have built a company around our service.
Need Fast Service, Now?
Call us now for emergency fuel delivery or HVAC service.