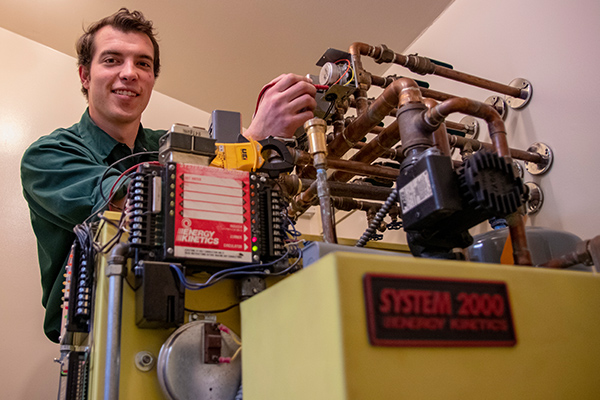 More Than 100 Years of Heating Installation, Maintenance & Repair Services in South Jersey
When the cold temperatures of the Pennsauken winters come, you need a heating system you know you can rely on. You need a system that's top of the line and will provide you with worry-free heating all winter long.
At McAllister Energy, our team has decades of experience installing and maintaining heating systems including furnaces and boilers.
Heating Services Contractor Service South Jersey
Our expert service team has been providing the best heating repair, installation, maintenance, and replacement in all of South Jersey! When you choose McAllister Energy, you're getting an HVAC contractor that works for you. Our main goal is to minimize your costs while also maximizing your home's comfort. For customer-focused care unlike any other, choose McAllister Energy for all your heating needs!
Heating System Repairs
At McAllister Energy, we'll make sure that you never have to worry about your heating system. Our heating repair services will provide you with fast, efficient solutions guaranteed to satisfy your heating needs!
We don't let just anyone work on your home because we know how important it is to get the job done right. The members of our team are NATE certified and will bring you the best diagnostic and repair services in the industry when it matters most.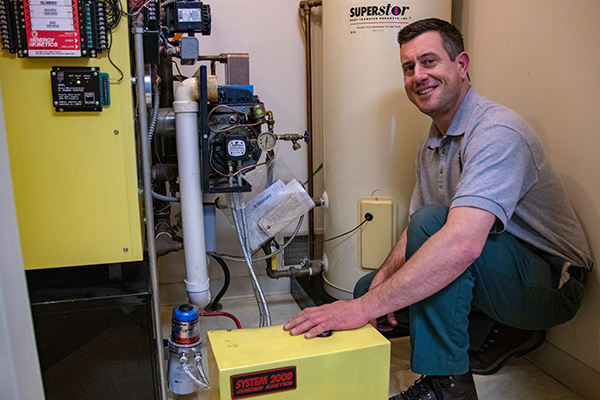 Heating System Maintenance
Without proper attention, your heating system may become unreliable, and have more problems down the line. We offer furnace maintenance services performed by our expert team to make sure your furnace will give you years of comfortable heat.
You may be surprised to learn that most heating repairs can be avoided by keeping up with annual maintenance. Whether you have a furnace, boiler, or heat pump, annual tune-ups will ensure your heating system is always in good shape.
We guarantee if you sign up for our routine maintenance program, you'll experience better efficiency, lower costs, and a longer lasting heating system! Contact us online or call us at (856) 665-4545 to learn more.
Heating System Installation
When harsh, cold temperatures of the Pennsauken winters come, having a reliable source of heating that keeps your family comfortable is a necessity. For the best in heating system installation, choose McAllister Energy! We are an authorized dealer in Carrier products, meaning we combine top of the line products with expert service!
When you choose McAllister Energy to install your next heating system, you're getting an expert team who treats every project like they're working on their own home. We offer a variety of heating systems for your home, so no matter what your needs, we have a solution that's right for you! Our products include:
Do you want expert service with a focus on customer care for your heating needs? Count on McAllister Energy for all your heating installation needs in South Jersey! Contact us online, or give us a call at 856-665-4545.
Heating System Replacement
A total heating system replacement can be costly, and knowing when a simple repair may do can end up saving you a lot of money. But when repairs aren't enough to keep your heating system at 100%, you need a replacement to make sure your family is comfortable even in the coldest winter weather. At McAllister Energy, our experts will give you the best advice on the solution that will increase the comfort in your home or business, and potentially lower your energy costs!
Do you know the signs that your heating unit needs replacing? Our experts have put together the following checklist for you to see if it's time to replace:
Your current furnace or heat pump is 10 to 15 years old
The current repairs required are greater than or equal to a third of the original cost of the system
You need to call in for repairs too often
Your home is being heated unevenly, or inadequately
Your utility bills are skyrocketing
Common Signs that You Need Heating System Repair
The team at McAllister Energy cares about your needs. If you start to notice any of these key signs in your heating unit, contact us and we'll diagnose and solve the problem!
Odd sounds. Squeaks, bangs, pops, squeals, and other sounds often indicate component issues. These can potentially be harmful to your system and could result in long-term damage. Contact our experts immediately if you hear something out of the ordinary!
Increases in energy costs. As systems begin to age they tend to lose both efficiency and effectiveness. There are many potential causes for this, but our experienced diagnostics team can help solve the problem.
Unresponsive/Inaccurate thermostat. If the temperature your thermostat says does not match up with how your home feels, contact our experts.
Frequent cycling. Heating systems cutting on and off too often frequently indicates aging or air flow problems.
Cool spots, or uneven heating.  First, check vents and your air filter to be sure dust isn't choking your system. If that's not the cause, call in for professional repair.
Since 1876, homeowners in the Pennsauken area have trusted us with their heating needs. If you need quality service on your heating system, call (856) 665-4545
Need Fast Service, Now?
Call us now for emergency fuel delivery or HVAC service.