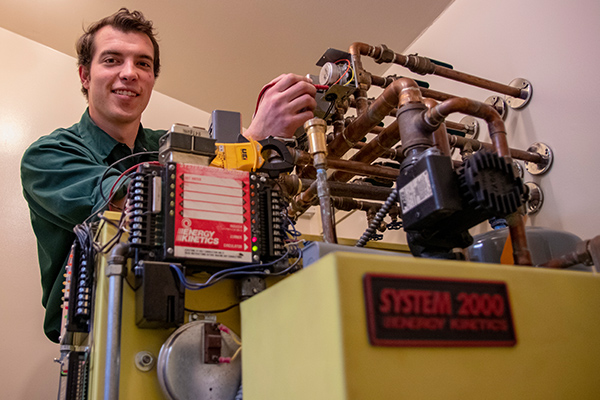 Dependable HVAC & Oil Delivery Services in Pennsauken and Nearby Areas
The McAllister Energy team is ready to solve your heating and cooling problems in a quick, efficient manner. We can handle all your home comfort needs including, air conditioning, heating, fuel delivery, and emergency backup power solutions.
McAllister Energy strives to provide you the best home comfort solutions in the region!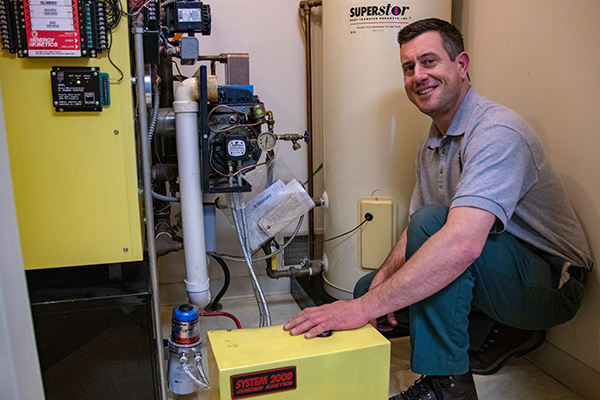 Heating System Services
We service, repair and install all types of heating systems including heat pumps, furnaces, and boilers.
Cooling System Services
We service, repair and install all types of air conditioning systems including central AC and ductless cooling units.
Commercial HVAC Services
We can handle all of your commercial heating and air conditioning needs, large and small.
HVAC Service Agreements
Keep your heating and cooling equipment operating with maximum efficiency and dependability.
Heating Oil Delivery Services
Quality, dependable home heating oil delivery services are what you can expect from McAllister Energy!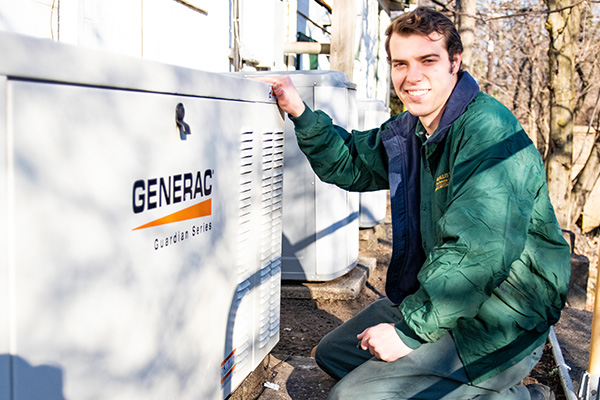 Backup Power Generators
Don't be left in the dark when your local utility company experiences a power outage and can't provide electricity.
We install, service and repair central AC systems, ductless AC units, heat pumps, oil boilers, furnaces and more. Our HVAC technicians are trained in all of the latest technology and equipment. We've built our business with one thing in mind, commitment to service and peace of mind. When it pertains to your Pennsauken home's comfort, heating, and cooling, you can rely on us! You can have peace of mind knowing that our technicians will keep your home the most comfortable that it can be.
We handle residential and commercial HVAC at McAllister Energy. When you need heating or cooling repairs, contact us or call (856) 665-4545.
Affordable HVAC Services & Products
At McAllister Energy we understand the absolute necessity of clean indoor air. If you want to learn more about the affordable ductless HVAC, we'll provide you with information that'll help you make the choice that's right for you. For us, customer service is key, so for everything from simple HVAC maintenance, to urgent AC repair, you know you can rely on McAllister Energy to get the job done on time, and at a price you can afford.
Air Conditioning Services
Since 1876, families and homeowners in the Pennsauken area have trusted McAllister Energy with their air conditioning needs to keep them comfortable in the hottest of temperatures of the summer. No matter what you need, our team will get your AC system installed and operating at full capacity so you can be comfortable even in the hottest days of summer.
We offer air conditioner services in South Jersey such as:
For all your air conditioning needs, trust McAllister Energy's experienced technicians to get the job done!
Furnace Services
When the cold, snowy weather of the New Jersey winters comes around, a reliable system to heat your home is essential. You don't want to have to rely on an inefficient, outdated system to keep your family warm when the temperature outside is below zero! McAllister Energy's heating experts can repair, replace, and maintain gas and oil furnaces. Unsure about which option is right for you? We can help with that too!
We offer furnace services  in South Jersey such as:
Contact us for information about the best kind of furnace for your South Jersey home!
Boiler Services
At McAllister Energy, we only use the top brands for our boiler services such as Weil-McLain and Bosch Greenstar and Buderus, making any purchase a lasting investment for the future. This means no matter what your needs are, you'll be able to count on reliable, cost-effective heat for many years to come. Since our products are backed by industry-leading warranties, you know you can expect dependable operation well into the future. If you need to upgrade or replace your current boiler, you can trust our knowledgeable technicians to finish the job!
We offer boiler services in South Jersey such as:
With a boiler system from McAllister Energy, you can rely on keeping your Pennsauken home warm no matter how cold it is outside for years to come!
Oil Delivery
If you rely on a boiler or oil furnace to make your home comfortable during the cold months of winter, you know how detrimental a problem with that system can be. Our NATE-Certified technicians can quickly diagnose and fix your oil furnace or boiler so you don't have to worry about it!
Running low on fuel? We offer regularly scheduled oil deliveries as well as on-demand options. Call 856-665-4545 for more information!
Heat Pump Services
Make sure your family is comfortable year-round by choosing an energy efficient heat pump. Our commitment to service will make sure McAllister Energy is the only name in heating and cooling that you know you can trust! If you're tired of searching for the most reliable way to heat and cool your Pennsauken area home, you're in luck! Our highly qualified HVAC specialists can install a heat pump in your home quickly, and for an affordable price, ensuring your home is comfortable all year long! Need maintenance on a heat pump? We do that too!
We offer heat pump services in South Jersey such as:
For affordable heat pump repair, maintenance, replacement, and installation in the Pennsauken area, contact us today!
Indoor Air Quality
It may seem hard to believe, but indoor air quality can be more polluted than the outdoor air! McAllister Energy offers indoor air quality solutions that can help with minimizing the effects of allergies and asthma in the home. HVAC systems that are not regularly maintained are the biggest cause of air pollution in your home. Not keeping up on maintenance can lead to mold growth on the indoor coil of your HVAC system. Even more dangerous, a furnace that is not annually inspected can develop carbon monoxide leaks. Make sure your family breathes easy while they're home!
You want to make sure your HVAC system isn't a danger to your family, so trust McAllister Energy to complete your annual HVAC maintenance.
Home Energy Audit
Did you know you may be spending more than necessary to keep your home comfortable? Our home performance test helps determine where inefficiencies may lie within your home. The test consists of checking for inefficient HVAC systems, inadequate insulation, air duct leakage, as well as improperly vented appliances.
Let our HVAC specialists help you lower your monthly heating costs and schedule a home energy audit today!
Commercial HVAC Services
Having a reliable commercial HVAC system at your business is critical to the day-to-day operations at every level. A problem with any of the equipment can negatively impact sales, customer comfort, as well as employee productivity. We know that in your business, every dollar spent matters. That's why as your business' power demands grow, it is vital to have an experienced HVAC contractor that can save you money wherever possible.
McAllister Energy has provided quality commercial heating and air conditioning services to the Pennsauken area since 1876. Learn more about our commercial products!
HVAC Maintenance Agreements
To ensure your HVAC system is always working efficiently and reliably, change or clean HVAC filters every 30 days, and don't forget to schedule yearly HVAC maintenance. Air conditioners and heat pumps need to be typically be checked in the spring, and furnaces in the fall. If you have a ducted HVAC system, have your air ducts inspected every few years.
Let the McAllister Energy team take care of all your HVAC maintenance needs so you don't have to! You can rely on our team to provide the best service in the Pennsauken area. Call us at 856-665-4545 today!
Emergency Heating & Air Conditioning
Having a heating and cooling system emergency in the middle of the night may seem like a nightmare, but McAllister Energy will always be available 24/7 for anything you may need. We provide:
Free estimates
Free second opinions
Emergency heating and cooling service
New air conditioning, heat pump, boiler, and furnace installations
Air conditioner repair
Heating system replacement
Boiler, furnace, and heat pump repair
Cooling system replacement
Call our 24/7 heating and cooling emergency hotline at 856-665-4545 for immediate service!
Why Choose McAllister as Your HVAC Provider?
Being a long-standing member of the Pennsauken community, we bring high standards and decades of experience to every aspect of our work. McAllister Energy is the most trusted name in HVAC services in the area. Not convinced? Here are a few more reasons you should trust McAllister Energy:
Free consultations for new systems
Affordable prices
Online coupons for HVAC discounts
Dealer specials on select systems
Licensed and insured
NATE-Certified technicians
Factory authorized HVAC contractor
Total satisfaction guarantee
Heating & Air Conditioning in Pennsauken
With over 100 years experience in the heating and cooling business, there's only one clear option for any of your heating and air conditioning needs in South Jersey: McAllister Energy. You can always rely on our skilled HVAC experts to repair, install, and help maintain your heating, air conditioning, and ventilation units. We offer services ranging from the simplest AC repair to complex furnace replacement. Your comfort and satisfaction is our #1 priority so we'll asses your home or business and get your HVAC system back up and running, quickly, efficiently, and for a price, you'll be happy with.
At McAllister Energy, we put your needs first, and we guarantee you'll never need to call another HVAC contractor after seeing what over 100 years of experience looks like. For quality service in the Pennsauken area since 1876, Contact us with all your heating and air conditioning needs!
Need Fast Service, Now?
Call us now for emergency fuel delivery or HVAC service.